DATE
TAGS
AUTHOR
VIEWS
Merry Christmas! The Click4Assistance 2020 Annual Review
2020, what a year! What started off as a promising year with a whisper of a novel virus in Wuhan, turned out to be the curve ball of the century, explicitly punctuated by pandemics, lockdowns and ever changing guidelines.
Despite all the chaos, one thing remained consistent for us throughout this whirlwind year: our dedication to our clients. 2020 saw a record number of our clients increase their volume of Click4Assistance licences to bring more of their operations online as organisations relocated to work from home. Heavy reliance on live chat as a convenient and reliable form of communication displayed how vital this form of communication is to our lives.
While many rejoiced in the idea of working from home during the lockdown or enjoyed some time off while on furlough, some did not. A sharp spike in domestic violence resulted in police forces looking for more confidential communication forms. Click4Assistance stepped in and offered police forces complimentary licences to aid in the fight against domestic violence, giving victims in desperate situations a more private channel of communication.
Privacy shield was invalidated in July, putting data transatlantically transferred at risk. Many software companies with servers based outside of the EU had to scramble to establish new regulations, while businesses within the EU turned to EU based software providers to fulfil their needs and provide the data protection the EU affords. Luckily, Click4Assistance clients were able to kick off their shoes and relax, since our entire operation is based in the U.K., with no transatlantic data transfers to worry about.
This year we successfully achieved our ISO 27001 accreditation, taking our software security levels to new heights, along with our Cyber Essentials certification and acceptance onto the G Cloud platform. We are working steadily towards our ISO 9001 accreditation in 2021.
Our registration with the NHS Data Security and Protection Toolkit was successful and classified as 'expectations exceeded' for security protocols.
Coni made her debut appearance this year as Click4Assistance's flagship formbot, a simple conversational interface to join Artie under the artificial intelligence banner. Her ability to assist customers find products and services based on a pre-determined multiple choice interview has revolutionised the way our clients handle pre-sale website visitors, saving them thousands of hours annually and giving the customer a much more enriched customer experience.
Social media has become more social this year for our clients, as Click4Assistance redesigned the direct messages module and added Facebook Messenger, WhatsApp and SMS messages, making it much more robust and comprehensive for our users. This impacted customer service productivity positively, since everything is in one place.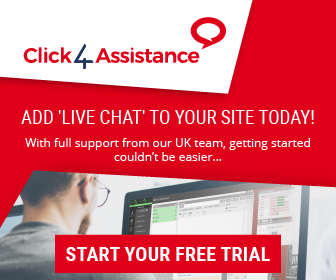 Our login page had a facelift, and now, we're releasing an option requiring operators and agents to select a fully configurable reason why they have marked themselves unavailable in the software.
The Click4Assistance Salesforce integration was launched this year and has changed the way we track customer details.
Looking forward to 2021, we have a couple interesting developments in store for our clients, one of which is the release of the Microsoft 365 Dynamics integration. As market leaders for automated customer service responses, we will continue to improve the quality and flexibility of chatbot and formbot integration, and continue concentrating on third party integrations, possibly to include more social media platforms, email providers and other CRMs.
With over 15 years of experience, Click4Assistance has been supporting businesses and organisations across a multitude of industries, including small business, universities, charities, local authorities, housing associations, healthcare practices, contact centres and even businesses and agencies as partners and resellers. Features such as live chat, video chat, Click2Call, artificial intelligence chatbot and formbot, and social media direct messages are all available and accessible remotely from the fully customisable dashboard. The 256-bit encryption for data in transit makes your live conversations as secure as a payment page, and your data is safe and secure as the entire operation is based in the UK with no transatlantic data transfers.
If you're interested in deploying Click4Assistance, the UK's premier GDPR compliant live chat software solution, to increase your business' productivity for 2021, give us a call on 0845 123 5871 or send an email to theteam@click4assistance.co.uk and one of our experts will be with you right away. Not ready to reach out yet? Discover how it works, try a demo, or better yet, try Click4Assistance completely free for 21 days.