DATE
TAGS
AUTHOR
VIEWS
The One About Mobile Compatibility
Apple is planning to introduce three (possibly four) new iPhones this year, opting for larger screens and clearer displays, using OLED on two of the devices. It is expected to be unveiled in September, a year exactly after the iPhone 8 was released and in line with Apple's launches of new flagship iPhones every September. However nothing is confirmed as yet.
Over the last couple of years consumer browsing has changed, with mobile traffic overtaking desktop. And with tech giants such as Apple and Samsung releasing new products regularly, organisations need to ensure their online experience is accessible on any device their visitors use.
Ofcom reported "Our data shows how the increasing take-up of faster fixed and mobile data services is extending people's choice over how, where and when they communicate with others, watch or listen to content services, seek information, shop, and participate in the digital world."
The Chat Experience on Mobile
When using chat on your website, a desktop PC and the larger tablets provide a lot more freedom for design and functionality. Pop up chat windows can overlap the page, whilst the visitor browses. Whereas embedded windows will stay with the visitor as they navigate the site, allowing them to minimise the conversation when necessary.
Mobile devices come in a range of resolutions which presents the challenge of accommodating the chat interface in a smaller space along with landscape / portrait orientation as well as a different kind of input e.g. virtual keyboard and touchscreen.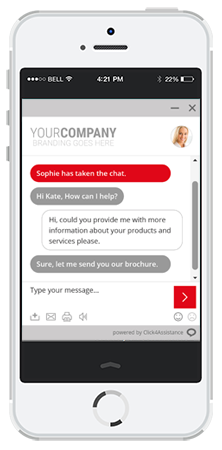 The Click4Assistance solution enables you to fully customise a chat experience that is responsive and adapts to any device size. Your organisation can select a larger button to display on bigger resolutions that automatically switches to a smaller button when viewed on a mobile device or that can be hidden instead.
If your organisation chooses to use an embedded chat window, the solution will automatically detect when the visitor is browsing on a smartphone and switch this to a pop up window that opens in a separate tab. Both these responsive changes on a mobile device ensures every visitor has a seamless and user friendly experience regardless of what device they are using.
"Click4Assistance addresses the UK's fragmented mobile device market with a responsive solution that behaves like liquid – adjusting to the shape of its container to ensure maximum usability" – Senior Developer at Click4Assistance
Seizing Opportunities
Optimising chat for all devices increases the potential of attracting more visitors to engage, which can then be leveraged to collect visitors' information, cross-sell and encourage to purchase.
"We researched a number of live chat options and decided to integrate with Click4Assistance because of the level of customisation. We have also generated a number of leads that may have otherwise been lost, if we had not responded to questions so quickly." – Customer Services Manager, 192.com
So whether Apple releases the 50th iPhone or Samsung launches their 30th Galaxy tablet, ensure your visitors receive the best online experience with Click4Assistance. For more information on mobile compatibility and the solution, contact our team by calling 01268 524 628 or email theteam@click4assistance.co.uk.
Click4Assistance is the UK's leading live chat integration provider that has been supplying the communication channel for over 10 years. Our clientele including Which?, the NHS and One Call Direct, have all successful implemented chat to increase engagement with their customers.