DATE
TAGS
AUTHOR
VIEWS
Increase your ROI without any cost to your customer
Communication is not normally tied to return on investment for financial organisations. But what if we told you that it is. Many organisations across all industries have a leaky bucket, allowing possible revenue to slip through the small holes in your bucket, which has a knock on effect on your business' return on investment. There are many ways to patch holes and figure out ways in which one can stop leaks, but what about removing the leaks altogether with a new bucket? Click4Assistance's online chat software is that bucket.
While many financial organisations don't think of live chat software as their answer to ROI, it can be. Live chat is often associated with help desks, but this powerful customer service tool is so much more than that. No one likes to sit in an indefinite telephone queue, listening to hold music while they are slowly bought up the queue. "You are now 15th in the queue" is not something you'd want to hear if you were waiting to speak with your financial advisor. Online chat software eliminates that, and it massively increases productivity since your agents can speak with multiple customers at a time, rather than one on one only. But how does this increase ROI? Since live chat software is more productive, your potential customers are more likely to speak with an agent, which leads to more potential revenue.
To further your potential revenue and return on investment in your digital sales strategy, your financial organisation will benefit massively from being online and available 24/7, also increasing your competitive advantage. By using Click4Assistance's AI chat and form bots, your financial organisation's website will become an always online powerhouse, connecting and engaging with every website visitor, increasing the potential ROI. Artie, Click4Assistance's AI chatbot, can engage an unlimited number of visitors simultaneously, making him the most productive member of your team. Coni, Click4Assistance's form bot, can drill down your website visitors with a series of questions which can help determine which of your financial organisation's services fit their needs. The great thing about Click4Assistance's artificial intelligence is that all this happens prior to human intervention, so you do not need someone always engaging customers, as the online chat software does this for you. They can operate independently and for those customers who they could not help completely, they transfer them to the right agent or department, reducing the number of transfers for the customer and increasing their overall experience. Artie and Coni can also up-sell and cross-sell efficiently since they are programmed to, further increasing your return on investment.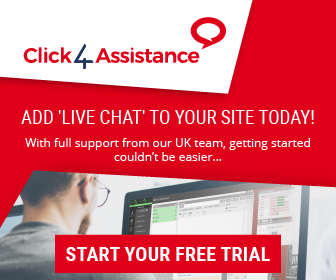 But what if your agents needed to speak with this person? Click4Assistance has Click2Call and video chat features available right at the click of a button, making it simple and easy for your agents and customers to speak one-on-one. This reduces the amount of time spent by the customer having to call and wait in a queue, explain their situation and hopefully get connected to the right person the first time around. With Click4Assistance, your agents just click a button, and they are connected to an audio or video chat immediately, massively improving your customer's experience and your financial organisation's competitive edge.
Everything you need, right where you need it
All these great features need something special to tie it together, so Click4Assistance developed their state of the art, fully customisable dashboard where your customer service agents can supercharge their productivity by hiding all the features they don't need at the time, and focusing on what's important. The secret behind this productivity is having everything accessible in one place, so that your team does not waste time searching through multiple applications for the information they need. It's all there in one place, within a few clicks. The Click4Assistance dashboard is built remote working ready, so that your agents have the capability to work from anywhere with a computer or laptop with a Chrome browser, and your financial organisation does not have to worry about security, since data in-transit is 256-bit encrypted, making it as secure as a payment page. Click4Assistance has been classified as exceeding expectations for security protocols by the NHS Data Security and Protection Toolkit.
With over 15 years of experience working with financial organisations like yours, Click4Assistance has become the UK market's leading customer service software solution, ready to work with your company in this ever changing world. No online chat software can compare. If you're interested in deploying Click4Assistance, the UK's premier GDPR compliant live chat software solution, to make your financial organisation more effective in 2020, give us a call on 08451235871 or send an email to theteam@click4assistance.co.uk and one of our experts will be with you right away. Not ready to reach out yet? Discover how it works, try a demo, or better yet, try Click4Assistance completely free for 21 days.