DATE
TAGS
AUTHOR
VIEWS
Are your conversations secure?
How secure are your conversations with your clients? Can you guarantee they are secured from digital eavesdropping? Is your online chat software solution working for you or against you? Is it protecting your customers and your financial agency? Does it allow your customer service team to work remotely? There are many customer service communication solutions available, but not many are as secure as they boast to be. Many are not GDPR compliant, or are encrypted in transit like Click4Assistance. Is your online chat software of choice answering the right questions for your business?
Like Cinderella's slipper
We all know the story of Cinderella, the girl who lost her glass slipper and the prince who endeavoured to find the perfect fit. Software solutions and financial agencies are alike in this sense, where there is a glass slipper of requirements, and financial agencies like yours, search everywhere for the right fit. For most financial organisations, when it comes to security, remote working options and robustness, Click4Assistance is the right fit.
Remote working mode: Engaged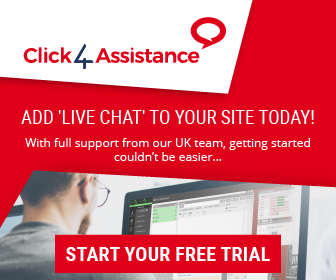 Remote working is 2020's buzz word. In the past, remote working models were viewed as only applicable to trendy, cash-strapped startups, but this year, those remote working models thrived amid the government's lockdown to control the spread of coronavirus and many businesses turned to remote working in order to stay operational where possible. One lesson learned by all was how unprepared the world was for a disaster, but as we move forward, how can your financial agency protect itself should the future hold another lockdown?
Your operations should be able to move to a completely remote location without any obstacles. Each department should have a protocol in place for internal and external communications, data and software should be readily available and online should staff need to work remotely.
Click4Assistance's robust online chat software comes with remote working built in, so your customer service team can easily move to remote working by accessing Click4Assistance from any device with a Chrome browser. This will allow your team to work seamlessly and effectively from home without any issue.
Always secure
Cyber security is a very important factor when considering online chat software, especially for companies who have to speak confidentially, like your financial agency. Click4Assistance understands this dynamic, thus has all data encrypted in transit, like your conversations with your customers, so they are safe and as secure as a payment page, no matter where you access the dashboard from. We are always reviewing the standards of our online chat software's security, ensuring that we exceed standards and expectations in every possible area.
Access everything, everywhere
The Click4Assistance dashboard allows your team to log into their interface whether they are working at the office, or remotely from home with a device using a Chrome browser. The fully customisable dashboard gives customer service agents the power to focus on what they need and hide the rest, reducing distractions and increasing productivity instantly. With live chat, video chat, Artie the AI chatbot, social media integration and even your own CRM available all in one place, your customer service agents will find working with Click4Assistance a seamless and productive experience, as they will not have to switch applications for customer notes or to keep on top of social media messages. This reduces the time spent looking for information and increases the overall efficiency of your customer service agents, and even the department.
Taking efficiency up a notch, without compromising security
Sometimes it's a tradeoff between productivity and security, but never with Click4Assistance. Online chat software allows your customer service agents to speak with multiple customers at a time through encrypted chat, while telephone only allows one-on-one conversations, unencrypted. This increases their productivity by 200% instantly, and provides a method of communication that protects both the customer and your company.
You can even add a layer of automation with Artie, Click4Assistance's AI chatbot. Artie does not sleep and is available 24/7 to engage with your website visitors. Since he can speak with an unlimited number of visitors simultaneously, assist with basic tasks like website navigation, and answer simple questions, all without human intervention, he's your customer service's first line of contact, adding a buffer for your customer service team and managing simple tasks so your agents can focus on the more complex requests. He instantly makes your customer service team more productive, and puts your business online all the time, even when your office is closed. Alternatively Coni, the latest release by Click4Assistance, is a conversational interface that will gather information and assist with form completion. She can even triage enquiries before routing them to the most appropriate agent.
For over 15 years, Click4Assistance has been supporting financial agencies like yourself with their customer service software solutions, providing state of the art security and reliability. If you're interested in deploying Click4Assistance, the UK's premier GDPR compliant live chat software solution, to make your financial agency more effective in 2020, give us a call on 08451235871 or send an email to theteam@click4assistance.co.uk and one of our experts will be with you right away. Not ready to reach out yet? Discover how it works, try a demo, or better yet, try Click4Assistance completely free for 21 days.