DATE
TAGS
AUTHOR
VIEWS
How can financial agencies remotely connect to their customers?
2020 brought with it a new and unexpected New Years resolution for all organisations across the world: remote working. The COVID-19 pandemic has expedited the process and need for businesses to look at remote working as a long term fixture, and an alternative to working in an office as there are many benefits of staff working remotely, including environmental and financial benefits. Remote working has become the new normal, whether we would like to accept it or not. With that comes finding the right software solution to support your remote working and disaster preparedness strategy.
Always available and secure, even during insecure times
One of the hardest parts of transitioning to remote working is keeping your customer service experience seamless and online, no matter what part of the transition phase your financial agency is in. Click4Assistance is readily available for remote working, making it the most effective solution for your customer service. Your customer service agents are able to access Click4Assistance's dashboard from any machine with a Chrome browser. And you do not have to worry about if the software is more or less secure based on location, since your conversations are encrypted in transit. No matter where you are working from, and it is as secure as a payment page. The dashboard is also completely customisable on an individual user basis, so your team can focus on the features they need, and hide the rest, reducing distractions and increasing efficiency.
Live chat software is always accessible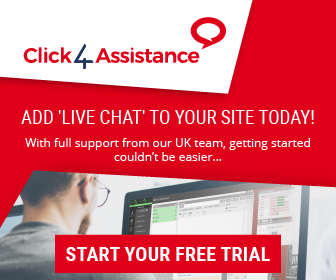 In a time of crisis and panic, customers tend to reach out for clarity, and while this is normal for a regular day, imagine if all of your customers did that, all at the same time, while being stressed out and frustrated. It can be quite overwhelming and your telephone lines would be the first place the queues build. Unfortunately, many customers will only grow more frustrated while waiting indefinitely in a telephone queue, which is why live chat software makes a great alternative for telephone contact.
A customer service agent can only speak with one customer at a time over the phone, whereas with live chat software, they are able to speak with multiple customers simultaneously, instantly making them more efficient. It's also much quicker for the customer, since they can get a response to their query without the indefinite queue, increasing your customer service satisfaction rate immediately.
Automate for efficiency and immediacy
Maximising the efficiency of your customer service should always be a top priority, but doing it the right way is key. When customers decide to contact you all around the same time, unless your customer service team can rapidly expand to manage the incoming volume and contract with the same speed when they reduce, you will experience a queue in any scenario.
This is where Click4Assistance's AI chatbot, Artie, can help. He can speak with an unlimited number of website visitors at a time, making him the most efficient member of your customer service team. Because he does not sleep or get sick, he's always online, and always able to immediately engage with all your website visitors as they come in, no matter what time it is. This puts your business online, even when your office is closed. And because he can answer basic queries and assist visitors with website navigation without human intervention, he can reduce the number of simple queries your customer service team handles, increasing their internal productivity.
Everything, all in one place
No one likes fishing around for messages and information, but with Click4Assistance, you don't have to. Our integrated dashboard has everything in one place: live chat software, video calling, AI Chatbots, social media messages, reports, meeting rooms and even your own integrated CRM. This software makes your customer service team immediately more productive and effective, as they don't have to switch between apps to ensure that messages are being responded to, and keep on top of everything. The dashboard is also fully customisable on a user level, so they can keep what they need to focus on, and hide the rest, reducing clutter and maximising efficiency. There's no other software that does what we do, by providing a robust, secure system that is focused on increasing your customer service satisfaction rate, your revenue streams, and the efficiency and productivity of your customer service agents.
With over 15 years of experience, we know that our software is exactly what your financial agency needs. If you're interested in deploying Click4Assistance, the UK's premier GDPR compliant live chat software solution, to make your financial agency more effective in 2020, give us a call on 08451235871 or send an email to theteam@click4assistance.co.uk and one of our experts will be with you right away. Not ready to reach out yet? Discover how it works, try a demo, or better yet, try Click4Assistance completely free for 21 days.