DATE
TAGS
AUTHOR
VIEWS
Removals Company Go Panda Implements Live Chat
Click4Assistance would like to introduce our latest removal company client to implement live chat; Go Panda.
Recently speaking with Panda Waddup, I found out about the company and their live chat journey so far.
What does Go Panda do and how long has the company been running for?
Running a removals company in Cardiff is a great job. The work itself is very rewarding and every removal is different. Go Panda Removals Cardiff has been established for five years, but we have recently opened a new branch, Go Panda Removals Bath.
What challenges does Go Panda face?
Removals is a very competitive market and there are a lot of removals companies in Cardiff and in Bath. At Go Panda, we combat this by offering the highest level of service possible whilst remaining competitively priced. Our staff is the removals companies best asset, without their tireless work our moves would not be so smooth and enjoyable.
How did you find out about live chat communication?
My first encounter was with live help was under the recommendation of a government business advice centre. They advised me to use it as a modern way of keeping in touch with my customers. We didn't act for a whole year after that and now we feel like we are playing catch up. Live help is such an important part of how we do business now.
What was your reasoning behind choosing live chat?
We felt that live chat would help us convert leads into business, this it certainly has done! But it has also helped in so many other ways, it helps us deliver instant quotes and also deliver support to our customers. One of our favourite features is the file transfer option; it allows our customers to send images to us instantly.
Why did you choose Click4Assistance as your provider?
When choosing a live help provider we choose Click4 because of their outstanding customer service. The fact that all their operatives are UK-based was also a real plus.
What do you like about the Click4Assistance Solution?
The app itself has great functionality and you can really get in and tweak the bit your business needs, the fact you can also download it to your phone is also a massive positive for us.
What are your future plans for live chat?
We have made a few templates using the customization option but are only just scratching the surface in terms of what the app can do.
Finally…
I appreciate the time Panda took to discuss the answers to my questions and he was kind enough to sum up his experience with Click4Assistance:
"Click4assistance has hugely changed our customer service offering whilst increasing our lead conversion rate, so it really is a no brainier."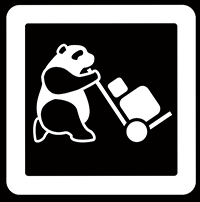 We are really pleased that the Go Panda business is benefitting from live chat and is getting on well with the Click4Assistance solution: we look forward to our continuing partnership!
And for anyone who doesn't believe that moving house can be enjoyable, Panda would encourage you to read their reviews to discover that changing homes doesn't have to be stressful!
If you want more information on about adding chat on your website, give our friendly team a call on 01268 524628 or email theteam@click4assistance.co.uk.