DATE
TAGS
AUTHOR
VIEWS
About Insurance: Shhhh, you shouldn't talk about this.
When you have me and need me, I'm beneficial to you. When you have me but don't use me, I become a burden. If you don't have me and don't need me, I'm not even a thought. But if you don't have me and need me, you wished you had me. What am I?
Insurance is one of life's most misunderstood necessities. Many share the belief that it is not beneficial, or that it costs more in the long run than it is worth. But like all safety nets, insurance is there to catch you if you fall. It becomes useful only when something goes awry, which is not something people in general like talking about or planning for.
For many, talking about insurance or speaking to an insurance agency comes with the burdens of anxiety and fear of judgement from peers. We live in a world riddled with a constant need to share every detail of our lives and collect approvals to prop up our achievement of being socially accepted. We all want to be the cool kids in the playground, but insurance is just not a cool-enough topic to engage outside of closed doors and hushed whispers. The details are intimate and exposing, making any customer feel vulnerable just thinking about it, far less actually talking about.
This social barrier directly impacts the way customers engage with insurance agencies. Communication is preferred to be kept private and be discreet, as not only does it carry its own social weight, its value also reveals their financial position which is seen as a benchmark for success against their peers. No one really likes to be scrutinised involuntarily against a list of their peers to get a good measure of their worth. The playground is more about projection, rather than actuality. So insurance becomes the safety net that everyone prefers to avoid.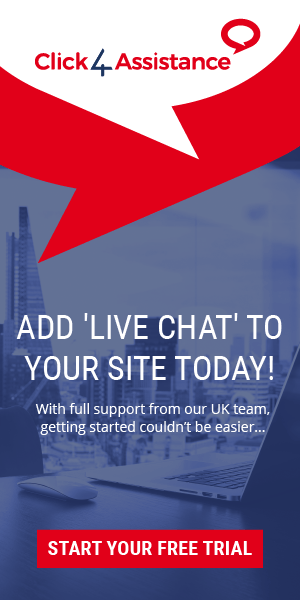 Ensuring that prospects are comfortable is a major cornerstone of customer service for insurance agencies. Putting a website visitor at ease, especially with a topic as daunting as insurance, could potentially mean that a visitor may convert into a customer. Live chat integration opens this opportunity. First of all, live chat is one on one and non-vocal, so it instantly feels more discreet than other communication methods. Secondly, the encryption levels make it as secure as a payment page, giving both you and the prospect the assurance that your conversation is completely confidential. These benefits instantaneously instil a level of trust, encouraging the visitor to give more accurate information in a discreet manner. Click4Assistance's chat integration is fully GDPR compliant and the business is Cyber Essentials Plus certified, giving you one less thing to worry about.
Additionally, since live chat can be accessed from any browser-enabled device, your customer has the freedom to chat from anywhere they feel most comfortable, not tying them to a desk or a computer. Sometimes, it's difficult to have a conversation about intimate matters like health and financial status, even on live chat, so mobility gives a prospect the freedom to go to a room where they are more relaxed.
Customers are already looking for insurance deals online, so having a chat integration for your website like Click4Assistance makes sense. It instantly increases revenue by allowing website visitors to ask pertinent questions while still in the decision process. Those insurance agencies who also have an AI ChatBot like Artie reportedly have an increase in visitor engagement and conversions since the virtual assistant can engage a visitor immediately, help them navigate the website, assist with basic queries and even gather initial prospect information for the next available agent. The more website visitors that are engaged, the more likely you will have more conversions which leads to increased revenue, and an AI ChatBot increases productivity for your customer service agents threefold.
Another understated benefit of Click4Assistance is the ability to call the agent mid-chat, free of charge to them. This encourages your customers to keep in touch with you, rather than resort to other methods of communication which may be less efficient for both parties. A five minute voice call can sometimes mitigate the frustration and perpetuation of back and forth emailing for days or even weeks.
But the icing on the cake? You will be able to track those conversions and see which of your insurance agents are most effective at converting website visitors into paying customers. By looking at data, you can make credible decisions and determine which parts of your strategy works and what needs to be refined. You can also see the times at which you have an influx of visitors, allowing you to shift staff schedules to be more effective overall.
If you're interested in deploying Click4Assistance, the UK's premier GDPR compliant live chat software solution, to make your insurance agency more effective in 2020, give us a call on 08451235871 or send an email theteam@click4assistance.co.uk and one of our team experts will be with you right away.