DATE
TAGS
AUTHOR
VIEWS
Ensure Your Healthcare Organisation Is Covered During the Holidays
Healthcare organisations already experience stretched staff resources, without team members also taking their annual leave. The summer holidays see a rush of parents taking their children away and it can be difficult to provide cover for colleagues, especially those in specialised positions.
One of the easier ways to help with the workload is by implementing chat box for website software. The communication channel is a great alternative to advising or taking bookings via the phone as users can handle multiple chats at any one time, increasing their productivity and covering the workload regardless of how many members of staff they have present.
The Click4Assistance solution allows multiple users to be logged in as user licences and profiles can be added simply within the software. Additional users can log in instantly and cover the chat as and when they are required to stand in for absent colleagues. The solution can be accessed from any location; users who are temporarily filling in may not wish to download the desktop application, therefore they can use the browser version instead.
Routing groups can be set up so chats are distributed to a primary group of representatives first, if these users are unavailable, the system can check if any operators are available in a backup routing group and direct the chat to them.
Users can control their own workload through their availability status. If they are handling the maximum amount of chats they can personally handle or are needed elsewhere, they can switch themselves to unavailable.
When all users are unavailable or logged off, the Click4Assistance solution continues to support the healthcare organisation by having the facility for visitors to leave their contact details and enquiry. The completed information is sent via email to a designated email address but also displays in the "Offline Requests" area of the Dashboard.
Representatives can view the enquiry and once this has been dealt with they can mark it as 'Actioned', therefore users are not duplicating their work and are maintaining their productivity. It also ensures all visitors have had contact from the organisation.
Maintaining Productivity Whilst Colleagues are Away
To increase their response rate and uphold their accuracy and productivity, the user can see what the visitor is currently typing with the Ghosting functionality. This feature can prepare the representative to start forming their answer, whether being able to respond straight away or having to look up information.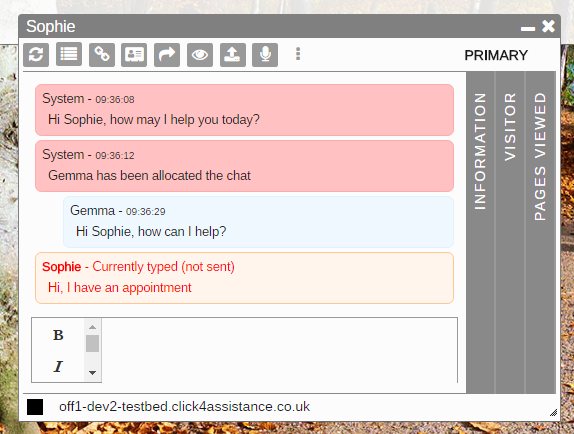 This can also include searching through the available library of Predefined Replies. The operator can select the most relevant response and edit it before sending to the visitor, ensuring their questions has been answered quickly and accordingly.
For visitors looking for extra information the representative can push the relevant pages through the system that opens up in a new page of the visitor's browser. This speeds up the time spent on an enquiry. Alternatively, if a visitor is struggling to fill in an online form or navigate a page, an operator can help them by viewing a replica of their screen with the Co-Browse feature and walk them through what they need to do, with accurate instructions to what the visitor can see.
Don't let the lack of staff members, especially during the holidays affect how your visitors are served. Ensuring each one has their enquiry answered satisfactorily couldn't be easier with live chat. Click4Assistance has been working with the healthcare industry for over 10 years, including organisations such as BMI Healthcare, NHS National Services Scotland and CWP NHS. For more information on our chat box for website solution, contact our team on 01268 524628 or email theteam@click4assistance.co.uk.
Author:
Gemma Baker
Gemma is the Marketing Executive for
UK live chat software provider
, Click4Assistance, with a range of digital knowledge within PPC advertising, SEO practices, email campaigns and social media.