DATE
TAGS
AUTHOR
VIEWS
Contact centres: Are you efficient during peak periods?
Contact centres are unique places, constantly flooded by ringing phones and pinging inboxes, always buzzing with communication. These customer service agents have an incredible volume of incoming communication and customer records to manage, and often from various applications. Organisation proves helpful on a normal day, but during a busy period, such as before or during Black Friday sales or the Christmas season, being more efficient could be the answer customer service agents need on days that feel like they will never end. How efficient is your contact centre? What could you be doing better?
The right workflow
Having a workflow that can help you focus but also make your day more productive is a blessing for many employees, not just customer service agents. Most times, customer service agents develop their own workflow routines to help them work or navigate faster, shaving down minutes per day and helping them find the information with greater speed, but they are limited by the restrictions of their software and screen real estate. This practice happens when customer service agents want more efficiency out of their day, but don't have access to the software that support it, so they make do with what they have. However, this is exactly what Click4Assistance's dashboard does. The customisable dashboard allows your customer service agents to individually have their own workflows, hiding the distractions and features they don't use, and bringing the important ones into focus. This allows the agents to work how they want to work, not work to the strict confinement set by software. This instantly gives a customer service agent control over how they see what's in front of them.
Click4Assistance's dashboard is the home to everything your contact centre's agents will need: live chat integration, video chat, Click2Call, social media direct messages, artificial intelligence chatbots, and even your own CRM integrated, right from the dashboard. This dashboard was built entirely remote working ready, allowing seamless access from any laptop or desktop computer with a Chrome browser, whether they are in the office or working from home. Your live conversations are as secure as a payment page with 256-bit encryption for data in transit, so you'll never have to worry about digital eavesdropping.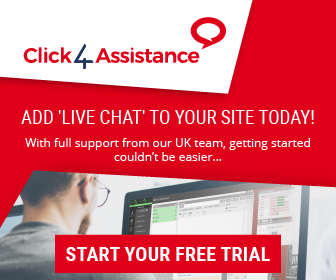 Automate the basics
The right workflow is important to efficiency, but what if there was a portion of the work that your customer service agents didn't have to do at all, saving them that time entirely, so that you can maximise on workloads more productively. This is where Click4Assistance's Artie and Coni can help you. Artie and Coni can immediately greet website visitors, reply to social media direct messages, answer basic questions, help with navigation and even up-sell and cross-sell, all without human intervention, but their biggest benefit is that they are always online and available to speak with someone, no matter what day or time, instantly putting your clients on the 24/7 availability map while being cost effective. Paired with a live chat integration, Artie and Coni are the most productive members of your customer service team.
Click4Assistance: the best live chat integration
When you're looking for a live chat integration for your clients, you need a solution that's reliable, robust, secure, holistic and cost effective. That is what Click4Assistance is. Unlike other chat solutions, Click4Assistance is based entirely in the UK, so your client data is protected under EU Data Protection Regulations. If you're interested in deploying Click4Assistance, the UK's premier GDPR compliant live chat software solution, to level up your contact centre in 2021, give us a call on 0845 123 5871 or send an email to theteam@click4assistance.co.uk and one of our experts will be with you right away. Not ready to reach out yet? Discover how it works, try a demo, or better yet, try Click4Assistance completely free for 21 days.