DATE
TAGS
AUTHOR
VIEWS
Click4Assistance Resolutions for 2018
A New Year can bring reflection on the year just passed and is a good time to review aspirations for the year to come.
"A New Year's resolution is a tradition, most common in the Western Hemisphere but also found in the Eastern Hemisphere, in which a person resolves to change an undesired trait or behaviour, to accomplish a personal goal or otherwise improves their life."[1]
Companies can set their own resolutions in the form of SMART goals for what they wish to achieve for the upcoming year, ensuring that the goal is Specific, Measurable, Attainable, Relevant and Timely, helps to set goals that are more achievable.
Click4Assistance have set our own aspirations for the upcoming year. Our main focus will be on the growth of the company. Each year our teams continue to grow, however the last 5 years have seen the highest levels of growth: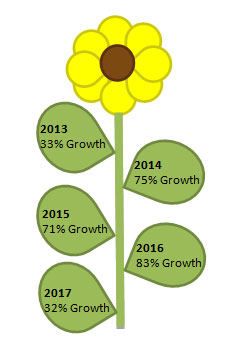 We hope to grow our staffing levels by at least another 30% in 2018. Growth also comes in terms of our customers and profit. When the last version of the software was released we experienced a 266% growth in customers, therefore with 'Experiences' by Click4Assistance we hope to achieve that level of growth in our client base in 2018.
Also with the new enhanced solution being released, we are aiming to provide this version to any new trialist. We are also targeting for 75% of our existing customers to be migrated to 'Experiences' by end of Quarter 4 (March 2018), and all of our customers using the new version by end of Quarter 1 (June 2018).
With a new product come changes to our marketing activities. We are hoping to achieve a release of our brand new website by end of Quarter 4 (March 2018) and to improve on and implemented new marketing strategies to help achieve our growth in our client base.
Our developers will also continue to enhance 'Experiences' by introducing phase 2. This will consist of completing the meeting room functionality, reviewing customer's suggestions and feedback from Beta testers for feature requests and implementing those that will bring value to users of the solution.
Staff Resolutions
It's not just the company that has aspirations for 2018. Staff members also have their own personal hopes and resolutions, here's how the Click4Assistance team members responded when asked about theirs: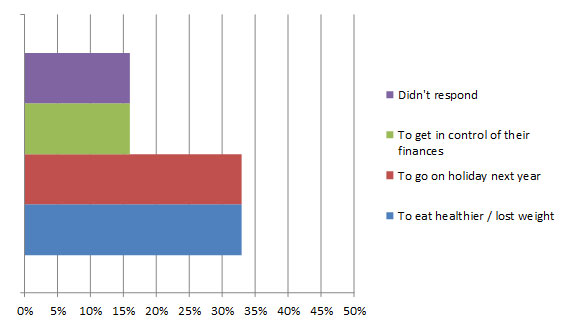 The most common resolutions regard health and wellbeing, according to a ComRes Poll conducted at the beginning of 2017:
Exercise more
Lose weight
Eat more healthily
Take a more active approach to health
Learn a new skill or hobby
Spend more time on personal wellbeing
Spend more time with family and friends
Drink less alcohol
Stop Smoking
Other
So Click4Assistance staff member's responses were pretty standard, but what about your resolutions for 2018, has your company set out their goals for next year?
For more information about Click4Assistance and chat integration, contact our team by calling 01268 524628 or email theteam@click4assistance.co.uk
---
[1] Wikipedia, New Year's Resolution
Author:
Gemma Baker
Gemma is the Marketing Executive for
UK live chat software provider
, Click4Assistance, with a range of digital knowledge within PPC advertising, SEO practices, email campaigns and social media.