DATE
TAGS
AUTHOR
VIEWS
Customer service productivity for your financial organisation
Customer service is not a simple task. It requires an immense level of multitasking and balancing the multiple channels of communication your financial organisation may have. From email to phone calls, your customer service team needs to be in top productivity to ensure that your customers' requests do not slip through the cracks, costing you revenue in the long run. While it may be tempting to select any solution that can fit the bill at the lowest possible cost, you may be putting your customer data at risk, should the security standards not be sufficient. This is why it is absolutely critical to select a chat on your website that meets your security needs as well as increasing your team's efficiency.
Enter stage right: productivity powerhouse
As we said earlier, your customer service team has to keep a lot of plates spinning to maintain a high quality customer experience. Live chat on your website, social media direct messages from WhatsApp and Facebook Messenger, SMS and more are all some of the platforms that they have to keep on top of. Then add telephone calls on top of that, which require one on one focus and attention. While it seems daunting, there is a solution for this: Click4Assistance's dashboard. With everything mentioned above, plus video chat, Click2Call, and even your own CRM integrated, your customer service team can easily find everything they need in one convenient application, which is customisable for each individual user, and can be accessed from any laptop or desktop computer with a Chrome browser, so they can work from the office or home seamlessly.
Time to level up the powerhouse
While the dashboard is great, and your customer service team can hold down the fort, what happens when they are offline? Who replies to your website visitors when your office is closed? What if you could have a team who is always online, and always available to speak with your website visitors no matter what time or day it is? What if they can greet every single one, so that your customer service agents don't have to? This is where Click4Assistance's Artie and Coni step in. They can speak with an unlimited number of website visitors simultaneously, and save your internal team hundreds of hours a year by simply answering basic questions and helping your visitors with navigation and pre-sales questions. When the customer wants to speak with someone directly, Artie and Coni can transfer them to the right department, reducing transfers and time spent waiting to speak to someone.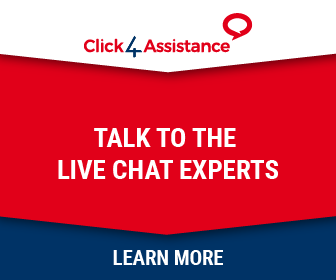 Security is near and dear…
The biggest concern for financial organisations and their customer service is data security. Much of the data in these conversations would contain some level of identify and financial information, which means that security is immediately the number one priority. This is why it is critical to select a customer service software solution that is based entirely in the UK eliminating the need for transatlantic data transfers, operates under the EU data protection regulations so your data is completely protected and is fully GDPR compliant. Click4Assistance is one of those solutions, and with 256-bit encryption, your live conversations with your customers are as secure as a payment page, giving you the peace of mind that no matter where your customer service team accesses Click4Assistance from, your data is protected.
Only the best live chat on your website: Click4Assistance
Click4Assistance has been supporting financial organisations like yours for over 15 years, setting the market standard for quality, efficiency and security. If you're interested in deploying Click4Assistance, the UK's premier GDPR compliant live chat software solution, to make your financial agency more effective in 2020, give us a call on 08451 235 871 or send an email to theteam@click4assistance.co.uk and one of our experts will be with you right away. Not ready to reach out yet? Discover how it works, try a demo, or better yet, try Click4Assistance completely free for 21 days.