DATE
TAGS
AUTHOR
VIEWS
Putting customers at the heart of your services
Customer service in any climate can be challenging for a local authority, but especially this climate with the pandemic being a new normal. COVID-19 defined the tone of this year, setting invisible enemy, remote working and hygiene as the primary keywords of 2020, regardless of how we wanted our year to be defined. It's easy to get frustrated or even angry and lay blame at nearly everyone and everything for causing such a major and unwanted life change, but we are left with the aftermath and must endeavour to work with what is left, focused on the future.
One thing is for certain: remote working has become a mainstay of our world. Every office, business, organisation and association across the world has been affected by this, with no exceptions, forcing even the most technophobic to adapt to remote working, cloud software and video conferencing. For those previously tied to a desk, they are now in the vast ocean of remote working and all its glory, including thousands of apps that can support your productivity, efficiency and communication. The software world has known this day would come, as many of them are already built with the infrastructure of remote access.
Setting up for remote working
Not all software is built equal. There are many that can support your business, but few that can support your customer service the way that Click4Assistance can. Our dashboard is completely customisable, allowing your team to add the features they need and remove the rest, so they can focus their attention on what's important. The dashboard brings everything in one place: live chat, video calling, AI ChatBot, social media integration, and even your own CRM. This reduces the need for switching through multiple apps to find the information you need, increases efficiency and reduces human error. The best thing about the dashboard is it's accessible from any device with a Chrome browser, making it truly remote friendly.
The bonus of having a solution that can be completely remote, allows your local authority to hire remote temporary customer service agents during peak seasons, and not worry about where you will have to physically place them. Your customer service team could be partially or even completely remote and your local authority's online status remains unaffected according to the public, when using Click4Assistance.
Using video chat to stay in touch
We all have that customer who wants to see you face to face, but sometimes, such as during a pandemic, that's impossible in reality, but not virtually. When the real world closes a door, the virtual world opens a (live video chat) window. Click4Assistance allows your local authority to bridge the communication gap with your customers who need visual context with just a single click of a button, completely free of charge for your customers. It's part of what makes us the best chat box for website.
Live chat box for website to streamline communication remotely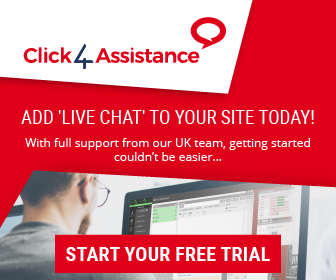 Streamlining customer communications remotely wasn't a focal point before the pandemic. Many organisations ignored the recommendations to have a fully remote working system, leading to many shutdowns across every industry. Those who were able to adapt, remained online during the most stressful period of 2020. Local authorities who implemented remote working live chat systems, such as Click4Assistance, for their customer service teams were online and functional to the public, answering the many questions that were fired their way. Live chat software delivered via a chat box on website gave customers a quick and easy method of reaching out to the local authority in their time of need. Those local authorities were able to carry on working and advising their clients without a hitch since those with Click4Assistance had a seamless office to remote transition for customer service.
Click4Assistance is the best chat box for website
For over 15 years, Click4Assistance has been assisting local authorities with their customer service solutions, making them the leading live chat software provider for local authorities in the UK. With data encrypted in transit, you can rest assured that your conversations with your customers are as secure as a payment page, and we work hard to ensure our security standards meet the industry best practice.
If you're interested in deploying Click4Assistance, the UK's premier GDPR compliant live chat software solution, to increase your local authority's productivity for 2020, give us a call on 08451235871 or send an email to theteam@click4assistance.co.uk and one of our experts will be with you right away. Not ready to reach out yet? Discover how it works, try a demo, or better yet, try Click4Assistance completely free for 21 days.