DATE
TAGS
AUTHOR
VIEWS
Covering Your Live Chat for Your Website Operations This Easter
Over the Easter weekend many NHS and private healthcare organisations will have reduced hours. For those closing for the full 4 days, it can cause worry for individuals needing to seek medical advice and therefore place additional pressure on A&E services.
Organisations can optimise their websites to aid their services when representatives are unavailable. The first thing to do is manage your visitors' expectations; if your company is reducing hours over Easter ensure your opening times are published on your website.
Usually these are included within a separate page such as contact us, therefore not every visitor will be made aware of the changes unless they are specifically searching for them. A Promotion can be configured to inform visitors of the temporary hours. It is an image that has been designed to display the important information based on the amount of time spent browsing and/or the page they are viewing.
Therefore healthcare organisations can use a Promotion to present their notification of changes to hours on the homepage after 15 seconds for example. If a visitor clicks the promotion they will be automatically redirected to the contact us page where they can view more in-depth information.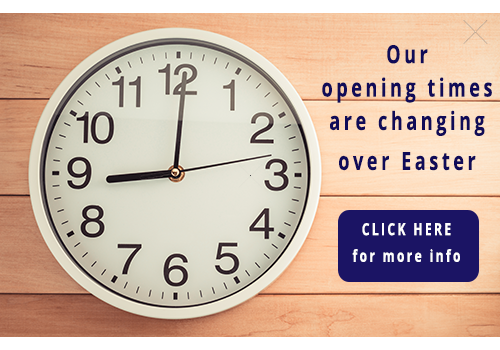 Managing Chat Operations over Easter
There are several options when it comes to managing your live chat for your website operations over Easter.
Service is Offline
The simplest choice for an organisation is to leave the chat in its unavailable status. This can either entail the chat button being hidden from view or an offline form being presented from the chat button.
Hiding the chat button from view could upset visitors if they can't make contact and are looking to gain information quickly. However, it also helps to reduce disappointment from seeing the chat button in its unavailable state if they get their hopes up of starting a chat. It helps organisations manage their workload as representatives are not overwhelmed by a build-up of enquiries when they return to work after the bank holidays.
This is a risk when using an offline form as there is no limit to the amount of enquiries that can be submitted; however the form gives an organisation an area to explain they are unavailable. This can be edited at any time; therefore it can be amended to include the changes in hours over Easter. An offline form is good to use if visitors are happy to wait for a response, if their enquiry is more of an urgent nature then it may not the best approach for your organisation.
Outsourcing
Your chat doesn't have to be outsourced all the time; it can be handled by your agents when they are present, with a managed service provider stepping in to supply overflow support when advisors are all unavailable or logged off. Using a manage service provider does take some resources such as money and time as the third party agents will need training to answer questions in a way your organisation expects, and they will need monitoring to identify any further training needs. However this does take the pressure off your staff resources allowing for a continued service.
Chatbot
A Chatbot is also great for reducing your advisors involvement. There is a cost involved in setting them up and an investment in time as they need to be taught the responses to frequently asked questions and ensure they are providing them as expected. They may not always have the right answer but they can be updated, including at certain periods of the year (bank holidays) to provide relevant unavailable details. This can include providing the 111 helpline number, suggesting A&E if it's an emergency or any other relevant contact details etc.
Working from Home
If none of the above is an appropriate option, the Click4Assistance solution does allow users to log in from any location (permissions permitting), which means agents could log in from home. Doing this would mean an interruption to the advisors' holiday time; therefore procedures need to be put in place such as time in lieu and a fairness policy e.g. one half of representatives monitor the chat service on Good Friday and the other half cover Easter Monday.
It's Your Choice
Your organisation knows what resources you have available and how urgent visitor enquiries usually are. This helps you to make the best decision when choosing how to cover your chat operations over any bank holiday including Easter.
For more information regarding Click4Assistance's live chat for your website solution contact our team on 01268 524628 or email theteam@click4assistance.co.uk. To find out about the healthcare organisations we work with click here.