DATE
TAGS
AUTHOR
VIEWS
Free calls can be critical for a charity
Charities are in a tricky place: they need to be run on a lean budget, and their target market doesn't always have the money to reach out to them. It can be a difficult position to be in, but there are solutions and ways to work around it, so that everyone can benefit and be happy. Click4Assistance provides a sleek solution that is free to the person who needs help, and low cost to the charity, so they can help the people who need it most when they need it.
Having free calls for website visitors is a must for charities, as a high percentage of incoming website visitors may be from low income situations. Let's look at a situation with John. John works at a minimum wage job and earns just enough to keep the roof over his head and adequate food for survival on the table. John relies on speaking with a charitable counselling organisation to keep his depression at bay and works with a specialist to form positive habits in his life. Sometimes text based chats are just not enough and he needs to speak with someone, and attending physical meetings are more difficult for him since every penny he has is spent on basic needs of survival. Luckily, his charity uses Click4Assistance's Click2Call and he's able to connect with his counsellor instantly and free of charge to him to have an audio call. This supports his needs of speaking to someone without putting a strain on his already stretched financial situation.
Now imagine someone like Tracey who needs this type of support but is unable to receive it because she lives outside of the applicable zone, since some charities are only setup to assist those who are registered in their designated area to keep them from becoming overwhelmed. Her mental health charity is not digital and requires her to physically go in. Let's say Tracey had a really rough day, as she was let off from her job following a dispute with a relative that happened at her place of work. The last of her money is going to be needed for food, but she needs to speak with her counsellor as she's feeling hopeless. Having to choose between food and her mental health, she skips speaking to her counsellor, falling into a deep depression, further exasperating her situation. Now if her counselling organisation was using Click4Assistance, she may have been in a better position, having better access to the much needed counselling.
While these scenarios focus on mental health based charities, the core principle remains the same for all charities: accessibility is a necessity. This is why Click4Assistance is such an amazing solution for your charity. Live chat for your website allows website visitors to instantly send your team a message, rather than having a long telephone queue. It also makes your team more productive since telephone calls can only be one at a time, whereas multiple live chats can happen simultaneously. It's an instant productivity booster. Then when you stack Artie, the AI chatbot, with your live chat, you have an instant engaging powerhouse that's online and available 24/7, so your website visitors know that someone is always there to answer them, no matter what time of the day it is. Artie also increases productivity by only transferring the conversations that need human intervention to your team, giving them the time to focus on other aspects of your charity.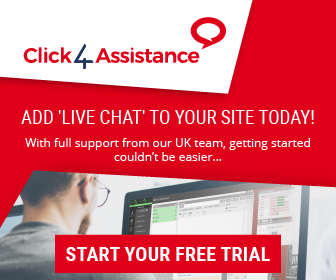 Built remote working ready, Click4Assistance is accessible from any laptop or desktop with a Chrome browser, giving your charity the option to work from home, or even expand into voluntary members who can manage the live chat on your behalf remotely. Click4Assistance really gives your charity options like no other live chat for website can.
Click4Assistance has been helping charities like yours for over 15 years. Our robust, all-in-one solution can give your charity the productivity boost it needs to support your customer service and administrative departments and increase your team's overall efficiency. The fully customisable dashboard allows your team to easily hide all the distractions and focus on exactly the information they want, instantly increasing their productivity. With live chat, video chat, Click2Call, artificial intelligence chat and form bots, and even your own integrated CRM all accessible remotely through the Click4Assistance dashboard, it's no wonder that it is the industry's leading customer service software solution, and the right solution for your charity.
If you're interested in deploying Click4Assistance, the UK's premier GDPR compliant live chat software solution, to increase your charity's impact for 2020, give us a call on 08451235871 or send an email to theteam@click4assistance.co.uk and one of our experts will be with you right away. Not ready to reach out yet? Discover how it works, try a demo, or better yet, try Click4Assistance completely free for 21 days.