DATE
TAGS
AUTHOR
VIEWS
How conversational marketing can improve your contact centre
With the growth and expansion of artificial intelligence in our personal lives, businesses will start to see the use of chatbots and automated conversational marketing increase. While the chatbots of today aren't exactly the customer service robots envisioned in science fiction 30 or 40 years ago, they are much more productive and efficient than their fictional concepts.
Artie and Coni, Click4Assistance's artificial intelligence chat-bot and form-bot respectively, open a world of possibilities for your contact centre and your clients. Both AI bots instantly put your client's business always online, via the live chat website, with someone there to answer their questions no matter what the day or time is, even when their offices are closed. They are both always available to speak with customers, always online, and never get sick or take a day off. They both manage basic tasks, like helping with navigation, providing contact or location information and even asking preliminary questions and transferring customers to the right agent, so that your customer service agents can focus on the customer issues that need their attention, rather than the basic enquiries that Artie and Coni can now manage.
Welcoming customers can sometimes be a tough role, especially if the website is high traffic, but just by greeting customers and asking them if they need any assistance can improve sales dramatically through the live chat website. Imagine walking into a clothing shop and no one was around to help you. It's the same feeling online for customers, so Artie and Coni both greet the customers so that they feel welcomed, improving the customer experience, while also removing this time consuming task from your customer service agents, making them more productive overall.
Making your in-house staff more productive should be a priority and any solution that can positively impact that should always be considered. Click4Assistance is developed to improve the productivity of customer service agents like yours. Features like our fully customisable dashboard allow your agents on an individual level to customise their workflow, hiding the services they don't use and giving them the ability to focus on what's important. By having everything they need in one place, they no longer have to fish through multiple applications or browsers tabs to keep up with customer messages on different platforms. Click4Assistance amalgamates all customer contact into one, easy to use, remote working capable dashboard.
The most important point to note is how conversational marketing can increase your client's revenue, which strengthens the relationship between yourself and your client. What AI bots like Artie and Coni can be programmed to do, many trained customer service agents can easily miss, such as cross sell or up sell. Because the bots are programmed to do it, they will always ask, increasing the chance of increasing the sale value by offering a related product or service.
Additionally, the AI customer service agents are greeting the customers and starting a conversation with them, increasing the potential for a sale from the moment they arrive on the website. Every 1 in 4 people who engage with a live chat website are more likely to purchase, rather than someone who visited a website without any social interaction. Very much like the person who walked into the store with no warm welcome greeting, those visitors will leave the website as quickly as they came.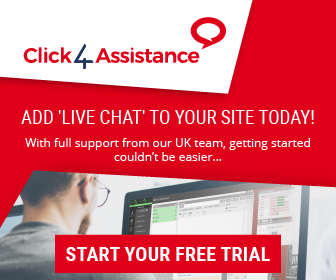 Click4Assistance's dashboard is built remote ready, so that live chat, direct messages, artificial intelligence chatbots, video chat, meeting rooms, Click2Call, smartContact and even your own integrated CRM are available from a laptop or computer with a Chrome browser. Your data is safe since it's encrypted in transit, giving you the peace of mind should customer service agents need to work away from the office. This flexibility gives your contact centre the ability to hire temporary staff who are based remotely during peak periods, while providing a seamless solution should a disaster happen in future that forces offices to close.
Providing customer service solutions is what Click4Assistance has been doing in partnership with contact centres like yours for over 15 years. Leading the way with being fully GDPR compliant, providing a full-suite dashboard that's remote ready and developing a robust platform with your clients' data encrypted in transit, are a few of the ways that Click4Assistance has shaped the industry and will continue to do so. Automated customer service solutions provide increased productivity for your customer service agents, and in your business, time is money.
If you're interested in deploying Click4Assistance, the UK's premier GDPR compliant live chat software solution, to level up your contact centre in 2020, give us a call on 08451235871 or send an email to theteam@click4assistance.co.uk and one of our experts will be with you right away. Not ready to reach out yet? Discover how it works, try a demo, or better yet, try Click4Assistance completely free for 21 days.