DATE
TAGS
AUTHOR
VIEWS
Is your chat box for website secure enough for remote working?
Remote working has gone from being a trendy startup practice to the alternative that has saved businesses from shutting down and kept universities online during the recent pandemic lockdown. Now that remote working is a mainstay for all organisations, either as a part of a disaster recovery plan or an alternative working arrangement to reduce in-house staff, universities need to look at the fine print of remote access.
While many organisations had to use communication alternatives that were free or cost effective at the start of the pandemic lockdown, what was not taken into consideration was the safety of these options. Many organisations, businesses and universities alike, were left vulnerable to data breaches and leaks, since the free and cheap alternatives do not have a rigorous security system, protecting their users from hackers, digital eavesdroppers and other forms of cyber crime.
Being cost effective is a good thing for many organisations, but being open to data breaches is not worth the cost. Imagine your customer service team is using a free video chat software to speak with other faculty members about something sensitive and the details of the conversation were eavesdropped. That could be a disastrous situation for your university that could have been avoided altogether by having the right options available to your team. Click4Assistance has exceeded security expectations for many organisations and continues to ensure that all data, in transit and stored, is safe and secure to the highest possible standards.
Another factor to consider when selecting a remote working software is the level of support your university requires. As with any free option, your support level will not be as reliable or comprehensive as with a full suite software solution like Click4Assistance. We are completely UK based, so we are available to support you when you need it, in your time zone, in your language, with an intimate understanding of your specific industry, and should the need arise for someone to be onsite at your university, our entire team is based in the UK.
Built for remote, out of the box
Click4Assistance is built with remote working in the forefront, so that your customer service agents can access their dashboard from any PC or laptop with a Chrome browser. The dashboard is completely customisable, allowing your team to make the dashboard their own, focus on the tools they need to use, and minimise the distractions, allowing for full concentration. With everything in one place, including live chat, Artie the artificial intelligence chatbot, video chat, social media messages, and even your integrated CRM, your customer service agents will spend less time switching through different apps and more time being productive. And you never have to worry about the security of accessing the dashboard remotely, as all data is encrypted in transit, making it as safe as a payment page regardless of where you access it from.
Live chat box for your website, and more…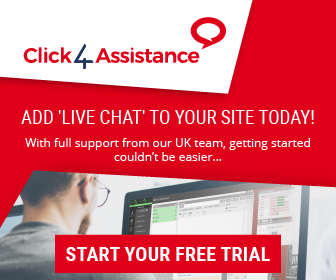 As with all live chat software solutions, your students will be able to contact you through your website, making your website an alternative contact option. However, when you connect your live chat with an artificial intelligence chatbot like Artie, your university's efficiency rate will skyrocket. Artie is always online, so he's always available to speak with incoming students no matter what time it is, putting your university's website on the 'always online' map. He can speak with an unlimited number of students at a time, making him the most productive member of your team, and he can work without human intervention, by helping website visitors, thus reducing the number of simple requests your human agents have to deal with, making them instantly more productive and better focused. Artie can also respond to any social media messages you may have, so that your team would not have to immediately engage those users until they are transferred to them. For simple data capture Coni, our automated conversational interface, can step in to gather details and assist with form completion.
Your university can go one step further and use Click4Assistance video chat with your students and prospective students, adding a layer of visual context to the experience for your customers. Free of charge and available at the click of a button, it's hard not to include video chat, as it allows a secure form of remote meeting, without the hassle of switching to another software solution. And because it's a part of Click4Assistance, your advisors will have a seamless experience and improved workflow.
Click4Assistance has over 15 years of experience providing customer service communication solutions for universities just like yours. With the best overall solution, security and reliability in the industry, it's a no-brainer. If you're interested in deploying Click4Assistance, the UK's premier GDPR compliant live chat software solution, to increase your universities' productivity for 2020, give us a call on 08451235871 or send an email to theteam@click4assistance.co.uk and one of our experts will be with you right away. Not ready to reach out yet? Discover how it works, try a demo, or better yet, try Click4Assistance completely free for 21 days.