DATE
TAGS
AUTHOR
VIEWS
Remote working for Universities: How difficult could it be?
2020 taught everyone an important lesson: how effectively can we, as a society, adapt to immediate, drastic change? How many of our organisations, like your university, prepared for working remotely if disaster strikes? For universities, it's important to keep communications with your students and parents online and functional, and have a strategy in place to manage these situations with ease and efficiency. Click4Assistance is the leading software solution to elevate your customer service.
Are you ready to work from anywhere?
Working remotely often has a connotation with working from a remote beach while sipping on piña coladas with cocktail umbrellas, but more often than not, remote working just means working outside of the traditional office. If you have emails on your phone and you reply during your commute, or while you're binge-watching a television series, then you're already working remotely. Now, what if your customer service software, your communication lifeline with your students and prospects, could also be remote? Click4Assistance is built with remote working in mind, the dashboard is readily accessible from any device with a Chrome browser. And it's just as secure as accessing it in your office, with data being encrypted in transit, so your conversations with your students are as secure as a payment page.
It's time to chat on your website!
Live chat on your website is one of the most effective methods of communication with students, parents and prospects. It's a familiar method, and in a time of crisis, customers are most likely to check your website for a notice and get in touch, since telephone lines are usually overwhelmed. Waiting in a telephone queue for an unspecified time is not ideal in the best of situations, but in a stressful uncertain situation, it's the least ideal place to be. Live chat on your website allows your website visitors to simply send a quick message to your team for either an immediate response, or at the very least a call-back once your agents are available. It's significantly faster than waiting in a telephone queue, and allows the customer to decide how they wish to be contacted, should they not be able to reach an advisor in the timeframe they have dedicated to contacting you, giving the customer the power to decide, rather than just wait indefinitely.
Automaaaaaate, mate!
It's like "exterminate," but without impending doom. In fact, Click4Assistance might have the friendliest robot around. Artie, Click4Assistance's AI chatbot, is the most helpful and friendly customer service agent you can have. He does not sleep, does not get sick and can speak with thousands of customers simultaneously, making him the most efficient member of your customer service team, while keeping your university always online, even when your office is closed. He can assist website visitors with simple queries, help them navigate the website and even transfer the website visitor to a real advisor when they are available.
Artie immediately engages every website visitor, increasing your customer service satisfaction rate, and because he can ask basic questions, there are even queries that he can satisfy without human interaction, therefore immediately increasing the productivity of your team, as they don't have to handle simple requests if Artie can. Artie is a massive win-win for your university, and everyone loves a cute robot!
But what about video?
Sometimes it's not possible to speak with someone face to face, especially in a lockdown, but Click4Assistance has you covered there as well. With built in video calling, you can have a quick video call with a student, rather than just a text based chat, and even host a meeting online rather than meet in person, especially during a pandemic.
While this feature is very helpful when we are experiencing a government lockdown, it's most beneficial feature is how cost saving it can be for the students who live abroad and cannot always afford to physically come to your university for a meeting. It saves a lot of time and money for the student, as they will not have to worry about travel fees and the loss of time while travelling, but it also increases the efficiency of your internal customer service team, allowing them to organise back to back meetings without worrying about the added preparation of a physical meeting.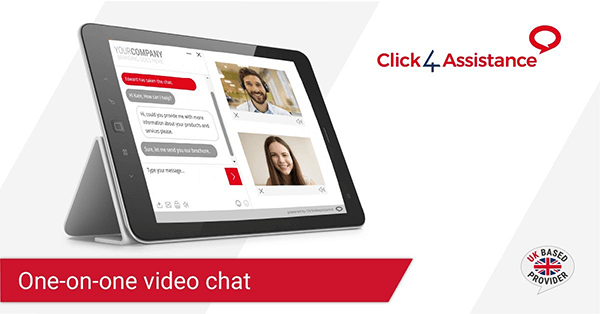 Click4Assistance has been working with universities and finding solutions for their customer service headaches for over 15 years. If you're interested in deploying Click4Assistance, the UK's premier GDPR compliant live chat software solution, to increase your universities' productivity for 2020, give us a call on 08451235871 or send an email to theteam@click4assistance.co.uk and one of our experts will be with you right away. Not ready to reach out yet? Discover how it works, try a demo, or better yet, try Click4Assistance completely free for 21 days.