DATE
TAGS
AUTHOR
VIEWS
Is your housing association able to work from home in a crisis?
At the end of 2019, no one could have imagined the intensity 2020 started with. While we all hoped that this would be 'the' year, the pandemic had another plan in mind, forcing everyone in the world to stop and postpone life as we knew it. Unfortunately, many organisations were hit badly, some unrecoverable, and thousands of families were left broken-hearted. It was not just a pause, but a life change that no one was expecting. In the previous years, many organisations postponed their disaster recovery planning, thinking that they would not need them in the near future, but the few who survived were able to activate their remote working models in industries that were kept online. Was your housing association one of these organisations? Or were you one of those left scrambling for a quick solution while adjusting to a new work from home policy that was being drafted as it unfolded?
As a result of the pandemic, remote working and work from home policies became a lifeline to organisations like your housing association. In a disaster or crisis, your housing association needs to stay online, as your customers are going to be the first in line to find out if they will be okay, with many more joining the queue as unemployment rises. Having an alternative communication method to a telephone system is necessary in times like these. When people are in a panic, the first thing many will try to do is ring your office, but if your staff are not there to answer the phones, they will then have to be diverted to a mobile, leaving many of your customers on hold indefinitely.
Live chat software is one of the best answers to this predicament, since your customers will not have to wait as long for a response, and with Click4Assistance your customer service team will be able to access their dashboard remotely, from any PC or laptop with a Chrome browser, making their work from home process seamless.
Accessible and secure, no matter where you are.
The entire Click4Assistance solution is built with remote working at the core. With everything accessible from one central location, your team will be able to easily access your live chat, video chat, social media messaging, integrated CRM and artificial intelligence chatbot, right from that dashboard on their browser.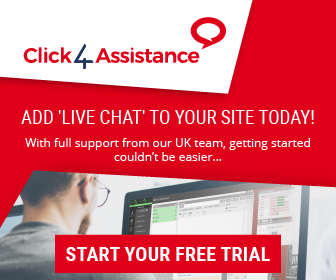 Security is a massive concern when your team is working remotely, and it should be as many access points, or Wi-Fi connections are not protected and vulnerable to eavesdropping. This is not a concern with Click4Assistance's software since all data, stored and in-transit, is safe and secure. Your Click4Assistance live chat conversation with your customer is 256-bit encrypted, making it as secure as a payment page, whether you access it from the office's secure network, or a corner cafe. Not many live chat software solutions can guarantee that, but Click4Assistance can.
Live chat software for the fastest response
Your customers will need questions answered, and quickly. The best way to do this is through a live chat software solution like Click4Assistance. Since your customer service agents can chat with multiple customers at a time, it makes them much more productive than a telephone only customer service solution. Your customers will spend less time waiting in a queue and more time getting the resolutions they need, instantly improving your customer service satisfaction rate.
When you stack live chat with artificial intelligence, you have a customer service productivity machine. Artie can manage basic messages and engage all incoming website visitors, so that your customer service agents don't have to. He can also engage an unlimited number of people simultaneously, making him perfect for the front line in a disaster, as he can disseminate key information without human intervention. The latest release Coni, is a conversational interface that can assist with information gathering and basic form completion.
And with Click4Assistance's dashboard, you'll never lose a message from a customer, as everything is available right in the same place, allowing your team to keep on top of all the incoming messages from live chat and social media platforms like Facebook Messenger and WhatsApp.
With over 15 years of experience managing customer service software solutions for local authorities like yours, Click4Assistance is the most reliable choice of live chat software for your organisation. If you're interested in deploying Click4Assistance, the UK's premier GDPR compliant live chat software solution, to make your housing authority more effective in 2020, give us a call on 08451235871 or send an email to theteam@click4assistance.co.uk and one of our experts will be with you right away. Not ready to reach out yet? Discover how it works, try a demo, or better yet, try Click4Assistance completely free for 21 days.