DATE
TAGS
AUTHOR
VIEWS
IT'S CHRISTMAS!!
It's that time of year again where mince pies are literally everywhere. In your house, in the office, even in your coat pockets with love from granny! Glitter becomes the number 1 enemy, hiding in every nook, crack and cranny. And Santa is busy organising his elf and reindeer workforce, to make kids happy.
Therefore, it's time to share our opening hours over the Christmas period and other seasonal information.
The administrative team will be unavailable from 1pm 24th December and will be back 2nd January 2019. The support team will be on call for emergency technical enquiries throughout the festive period and can be reached on support@click4assistance.co.uk.
Notifying your Visitors of your Chat Hours
If you haven't already started telling visitors your holiday availability, there's not much time left. Therefore you can easily add a predefined reply to your library, which allows representatives to instantly access the response and inform your chat customers of your opening times. Alternatively, if your web developers are winding down, why not task them to add in your seasonal hours to your prechat form or chat dialogue window?
And whilst your web developers are making the changes to those windows, they can also alter your offline form to explain that your hours are shorten over the Christmas period, or that your organisation will be closed until the New Year etc.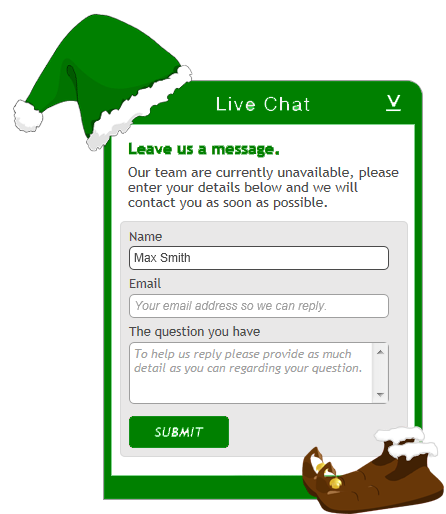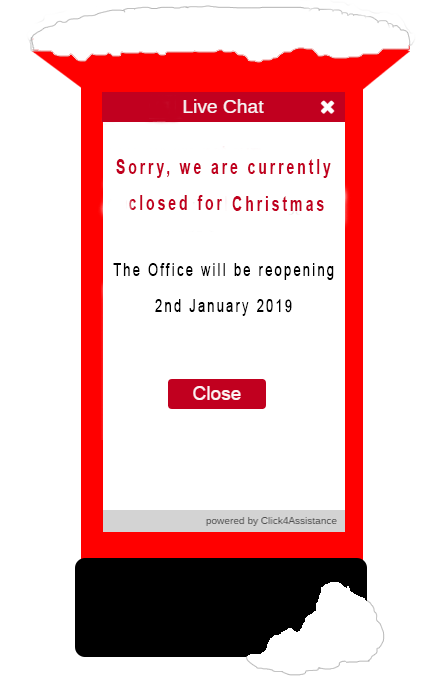 Covering with Skeleton Staff
Alternatively, if your organisation still plans to handle chats over the holidays, the solution can be accessed from any location (permission permitting). This means that on-call advisors can sit in the comfort of their own home, in their snowman onesie (if they desire to), and still manage incoming chats as and when they initiate. This enables your company to continue supporting your customers even when your office is closed.
If it's not plausible to have your own staff handling enquiries outside your seasonal hours, a managed service enables highly skilled agents to manage your chats. They can simply gather the visitor's contact details and pass this over to your representatives to follow up, or they can fully answer the enquirer's questions as if they were your own advisors. Contact us for more information.
Ensuring your CX is up to Santa's Standards
To deliver all his presents on time for Christmas Day, US scientists calculated that Santa would have to visit 822 homes a second, travelling at 650 miles a second![1]
And though it would be impossible for one representative to handle 822 chats a second typing 650 words a second, advisors are able to manage multiple chats simultaneously. On average, an operator can handle 3 enquiries, however, this does depend on their training, the nature of the enquiry and the speed the visitor types.
Santa is very good at delivering what kids want, he knows his audience and he rarely disappoints. Therefore your organisation needs to follow in his boots and ensure your customers are getting exactly what they require.
Just as Santa has a magic way of keeping an eye on kid's behaviour, your organisation can also keep an eye on your visitor's browsing habits this season. Real time monitoring enables your company to observe visitors currently on your website, seeing what pages are being viewed, the duration, and whether the individual is a new or returning customer, including their history and device used.
Operators can use the real time data to send manual proactive invitations to chat, and display promotional information to specific visitors. They can also use the co-browse functionality to gain an understanding and visual representation of what the visitor is experiencing, allowing representatives to be more accurate with their advice.
Analysts can either view the data in real-time or report on a certain period, which helps them to identify trends in visitor behaviour (exiting a specific page quickly etc.), or can use the information to monitor regional marketing campaigns and delivery areas with the use of visitor locations. This is especially useful when implementing campaigns over Christmas as results can be benchmarked and analysed.
Further functionality enables potential leads to be identified, as their visit will be tagged with key pages they have viewed, allowing your organisation to highlight individuals who are likely to purchase. Your operators can also assign contact details to visitors, allowing their activity to be recorded and the system to notify available representatives if and when they return. This enables your business to optimise on their future visits.
For more information regarding how you can prepare your chat solution for the Christmas period and be as efficient as Santa, contact our team by calling 01268 524628 or emailing theteam@click4assistance.co.uk.
---
[1] Mirror, 2017, 52 Christmas facts you never knew about the festive period