DATE
TAGS
AUTHOR
VIEWS
Making a House a Home this Christmas with Live Chat on Your Website
This time of year many households will begin sprucing up their home, ready for visitors over the festive period. Others in the middle of buying/ selling will be looking to complete as soon as possible to give them a chance to settle in before Christmas.
Your own staff may be taking time off to prepare for the upcoming festive season, therefore the most cost effective way to handle the last batch of enquiries before Christmas, whilst dealing with tighter resources is via live chat software. The instant communication channel allows visitors to connect with a representative in real-time, obtaining their answers quickly. Operators are able to achieve higher productivity levels as they can handle more than one enquiry at a time.
Improving the Home and Customer Engagement
Home improvement stores usually have an 'order by' date for guaranteed delivery before Christmas, this is usually displayed all over the website and any adverts the company has, however if there is any doubts, live chat on your website is the easiest way to find this out.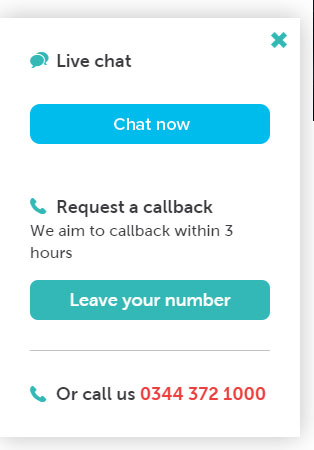 Home improvement company, Harveys Furniture implemented chat in 2013 as the executive team were keen to investigate ways they could improve capturing the interest of shoppers in the early stages of the buying cycle. They quickly initiated discussions with live chat providers and were intrigued by the potential that a chat management system could transform their customer handling processes and allow the company to make substantial savings on staff labour costs when implemented correctly. Which Harveys have done!
For ease of access the chat button is available on every page, allowing the online visitor to instantly contact the sales team at any point during their browsing journey. When clicking on the 'Chat now' button it initiates a communication channel panel, which offers the actual button that starts a chat, a request a call back feature and their phone number. It's important to display contact details to encourage the customer to have a positive perception of the company.
Would You Like to Chat?
Another way Harveys are encouraging shoppers in the early buying cycle to start a chat is by presenting a Proactive Invitation on the visitors browser. The Invitation is an image that displays based on a rule that has been triggered by the visitor, this could be that they have been on the website for a certain amount of time or visited a specified page. If the Invitation is accepted it will enter the visitor into a chat with a representative.
To achieve a high acceptance rate, the Harveys Proactive Invitation imitates a chat window. It presents text that appears to be "sent from an operator" encouraging the visitor to send their name to continue the chat conversation, which actually just initiates a real chat with a representative. The image uses space to display marketing material, which includes the company's USPs, helping to persuade the visitor that this is the company they want to be engaging with.
"Click4Assistance offers our customers a fantastic service allowing our brand to have a real time relationship with our customers online. I am extremely excited by this partnership as we aim to be at the forefront of Live Chat developments and customer experience online."
Whether your visitors are looking to move house or spruce up their homes before Christmas, ensure your visitors can contact your representatives easily with live chat software. For more information on the Click4Assistance solution call our team on 01268 524628 or email theteam@click4assistance.co.uk.
Author:
Gemma Baker
Gemma is the Marketing Executive for
UK live chat software provider
, Click4Assistance, with a range of digital knowledge within PPC advertising, SEO practices, email campaigns and social media.