DATE
TAGS
AUTHOR
VIEWS
University of East Anglia Has a Successful Start with Online Chat Software
The University of East Anglia implemented online chat software in time for the Clearing period of 2018, allowing potential students to enquire easily about remaining places and requirements.
The university's marketing innovations project manager commented that they "had a successful first Clearing with live chat" and during 2019 will be looking at other areas to implement the instant communication channel within.
For business as usual operations, the university's online chat software is available via their contact us page and throughout their undergraduate course pages. This allows students to easily and quickly have their questions answered, whether a general enquiry or something more specific regarding a particular course.
Advisors from the university are able to handle multiple chats simultaneously, empowering them to help more potential /existing students at any one time, reducing phone volumes whilst increasing productivity. This is particularly useful at times like Clearing when a high volume of enquiries is expected.
Designed to The University's Branding
To let students know when the live chat service is online, the button will change status based on advisors availability. This entails the wording switching between 'chat live with us' to 'leave a message' and the relating icon altering from chat bubbles to an envelope, which helps convey the status.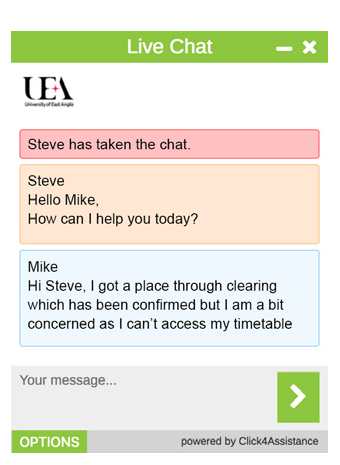 The online and offline buttons have been designed to stand out from the university's website, using a secondary colour that is part of their branding. This brings the student's attention to the chat service and increases uptake, which reduces enquiry volumes from other channels and improves representatives' productivity.
Before the student enters a chat they are presented with a prechat form, this if fully customisable to capture any data the organisation requires. The university has simply opted to collect the visitor's first name in order for advisors to address them appropriately. This has been proven to increase the number of people who continue into chat, as they are not deterred by sharing too much of their personal data, representatives can then collect the pertinent information they need to help with the enquiry during the chat.
After a chat has finished, a quick survey provides the university with instant feedback about the visitor's experience, allowing East Anglia to improve their student services. All windows have been designed to incorporate the university's branding including their logo and secondary colour, keeping the chat journey from start to finish consistent. This ensures that the visitor experience is seamless throughout their enquiry.
If no operators are available or online, the offline button will be shown which displays a contact form. This allows the university to continue receiving enquiries even when they are busy, enabling them to never miss an opportunity to engage with students.
Meeting The University's Requirements
When first researching into online chat software one of the main requirements for the university is that the solution needed to operate within the cloud. This is something that Click4Assistance can accommodate, as well as delivering a lightweight desktop application the solution can also be access via a browser (we suggest chrome for the optimum experience).
Alongside their cloud requirement came the need to ensure that the solution complied with data protection laws such as GDPR. Data storage and security is an upmost priority for us therefore our new enhance system has had the highest of levels of security developed within it. This includes strong passwords and forced expiry, encryption during transit and at rest, AD integration, with all data being stored within a secure datacentre within the UK.
Click4Assistance has been able to meet the university's requirements and in return our solution has streamlined the Clearing process and made it easier for potential students to enquiry about course information and requirements.
For more information regarding the University of East Anglia's implementation request their customer example, or to find out how your organisation can benefit from adding live chat to your website, contact our team today on 01268 524628.