DATE
TAGS
AUTHOR
VIEWS
Why Click2Call is the next best thing for your local authority
Local authorities have to speak with people of all backgrounds and walks of life. No two customers are the same, and no two situations are alike, making customer service more tricky than the average role. With the pandemic complicating meeting protocols and a growing unemployment rate, local authorities are faced with the challenge of digitally transforming their customer service to support those who are in financial difficulties, as well as improving their service to those who are unable to move freely.
Many of the customers your local authority speak to are from lower income situations, which makes appointment keeping a little more challenging, since some may not be able to physically attend meetings due to financial constraints or work commitments that they cannot afford to reprioritise. Imagine someone who is working on a per-hour basis. That person may not be able to attend a physical meeting at your office if they have financial constraints. This is where Click4Assistance's Click2Call option can be beneficial for both your local authority and your customers.
Click2Call allows you to speak with a customer free of charge to them, and it gives them an instant connection to their customer service agent, saving time and hassle. No more waiting in telephone queues for an indefinite amount of time, just an instant connection with one click. Your customers now have a much more convenient alternative to physical meetings that will be of great benefit to them and costs them nothing.
By using communication alternatives like Click2Call, you will find that your attendance records are much higher than before. When you add Click2Call and Click4Assistance's video chat integration to your customer service arsenal, your local authority will be instantly transformed, ensuring more meetings are attended virtually without causing a disruption in your customers' days, while saving them time and money. Not only does this improve the outlook of your local authority, supporting digital transformation goals, additionally it improves your overall communication with your customers.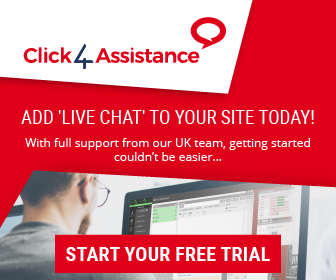 Click4Assistance has been helping local authorities like yours for over 15 years. With the most robust chat integration in the UK market, Click4Assistance can completely revolutionise the way your customer service team operates, making them instantly more productive and efficient.
This year has solidified remote working policies and Click4Assistance was built with this at its core. The fully customisable dashboard can be accessed remotely from any laptop or desktop computer with a Chrome browser, and the 256-bit encryption for data in transit ensures that your live conversations are as secure as a payment page, whether your team is working in the office or from home. This peace of mind is further cemented by the fact that Click4Assistance has no transatlantic data transfers, so your data is protected by EU data protection policies, unlike many alternative chat integration options.
Your team can access the full suite of Click4Assistance right from the dashboard: live chat integration, video chat, Click2Call, AI chat and form bots, social media direct messages, and much more, all from one application. Your customer service agents will never have to flick through multiple applications to look for information or messages, as it's all available right from the Click4Assistance dashboard. The best things about Click4Assistance is that your local authority can even integrate your CRM, giving your team access right from their dashboard, making customer notes much more comprehensive.
If you're interested in deploying Click4Assistance, the UK's premier GDPR compliant live chat software solution, to increase your local authority's productivity for 2020, give us a call on 0845 123 5871 or send an email to theteam@click4assistance.co.uk and one of our experts will be with you right away. Not ready to reach out yet? Discover how it works, try a demo, or better yet, try Click4Assistance completely free for 21 days.