DATE
TAGS
AUTHOR
VIEWS
The EU Referendum – Should We Stay or Should We Go?
Its election time again! Soon another referendum will be held and the public will get a chance to vote. A referendum is a vote that's decided by the public where anyone of voting age can participate.
This time, we will be voting either yay or nay whether we should stay in the EU and whatever gets the most votes has immediately won. David Cameron said "It is time for the British people to have a say. We haven't had our say since 1975 and the question that will be asked is – should we remain in the EU?" Well Mr Cameron, all is to be decided on the 23rd June.
If it results in the UK actually leaving, we still get to keep:
Child benefits

Migrant welfare payment

Keeping the £

Protection of the City of London

Running our own affairs
Leaving the EU could affect businesses in the UK, yet everything is still safe with a UK live chat software provider. An article from the BBC News stated:
Should We Stay or Should We Leave?
"Big business - with a few exceptions - tends to be in favour of Britain staying in the EU because it makes it easier for them to move money, people and products around the world. BT chairman Sir Mike Rake, a recent CBI president, says there are "no credible alternatives" to staying in the EU. But others disagree, such as Lord Bamford, chairman of JCB, who says an EU exit would allow the UK to negotiate trade deals as our country "rather than being one of 28 nations". Many small and medium-sized firms would welcome a cut in red tape and what they see as petty regulations. The British Chambers of Commerce says 55% of members back staying in a reformed EU."
Whether we leave or not, Click4Assistance live chat software will remain compliant to Data Laws such as the Data Protection Act 1988 and PCI compliance. However, some providers are based in the EU and under current regulations, it is completely safe. Data Protection regulator, ICO, may find it inadequate for providers to have servers in the EU.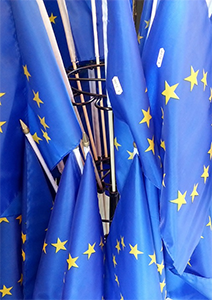 Our Security
Our data is already stored in the UK therefore there will be no hassle with data being moved or at risk of loss. Click4Assistance conform to ISO 9001 and 27001 standards and we adheres to the stringent regulations laid out by the FCA for data storage, Data Protection Act 1988 and PCI compliance.
So, should we stay or should we go? That's what the Nation really wants to know. For more information on how a UK based provider can keep your data safe, contact 0845 123 5871 or email us at theteam@click4assistance.co.uk