DATE
TAGS
AUTHOR
VIEWS
How does your charity manage during peak periods?
Every organisation, regardless of its industry, suffers from peaks and troughs, where work accelerates with mind-numbing momentum and decelerates as though it never happened. Many organisations plan for these incoming floods, putting measures in place so the organisation can withstand the brutality of their peak season without faltering. However, some organisations are not so fortunate, and have to cope with whatever they have at their disposal, arming themselves with whatever they can find, hoping that they can manage. Charities are sometimes placed in these precarious situations, with many volunteers left feeling overworked and depleted, especially when it comes to their customer service agents.
Some organisations can rely on temporary staff or outsourced resources to help them manage during busy seasons, but charities are in a unique position where outsourcing and hiring may not be the answer. What about increasing internal efficiency? By increasing the efficiency of your charity's team, you will be able to manage the influx much more effectively, since the time saved in efficiency will gain your team additional hours that were not available to them before.
One of the most effective ways to improve your charity's efficiency is through automation, by ensuring your customer service is operating as productively and efficiently as possible. We live in a world full of automation, and customer service is one of the easiest tasks to automate, giving your charity's customer service agents more time and flexibility to manage a communication influx.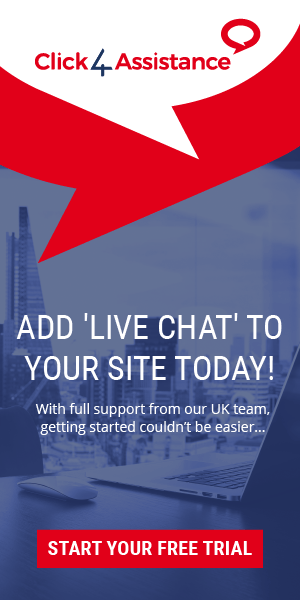 Click4Assistance's live chat software is perfect at streamlining your customer service communication, especially during a busy period. Live chat is arguably one of the most productive communication methods currently, allowing customers to speak directly with a customer service agent, right from your website. This in turn reduces the call volume, since your customers will connect with a customer service agency faster on online web chat than over the phone. Since less customers will be flooding your telephone lines, your customer's telephone queue time will be reduced, improving their customer experience on the phone as well as online. Your customer service agents can chat with multiple customers on live chat, allowing them to speak with many more people in a single day than ever before. This will enable your charity to better manage an increase in communication demands, no matter what time of the year it is.
Your charity can then further this efficiency by deploying the assistance of artificial intelligence chatbots. These chatbots, like Click4Assistance's Artie and Coni, are able to chat with an unlimited number of website visitors at a time, no matter what time or day it is. This ensures that there is always someone available to speak with your customers, even if your customer service agents are busy or offline. Artie and Coni are able to greet your customers, answer basic questions, help with website navigation, up-sell and cross-sell, all without human intervention.
Coni, a conversational interface, can help your charity's potential benefactors and beneficiaries through a series of questions and pre-programmed multiple choice answers. By collecting this information and guiding the website visitors without human intervention, your customer service agents will save a lot of time usually spent on information gathering. Likewise with Artie, your team will not have to manually greet every single website visitor, or answer any of the basic questions that he can manage, making Artie and Coni your most productive team members while still being cost effective. Additionally, your customer service team will become much more streamlined and productive.
The best live chat software for your charity
For over 15 years, Click4Assistance has been supporting charities like yours with their customer service communication and live chat software. If you're interested in deploying Click4Assistance, the UK's premier GDPR compliant live chat software solution, to increase your charity's impact for 2020, give us a call on 0845 123 5871 or send an email to theteam@click4assistance.co.uk and one of our experts will be with you right away. Not ready to reach out yet? Discover how it works, try a demo, or better yet, try Click4Assistance completely free for 21 days.