DATE
TAGS
AUTHOR
VIEWS
How productive is your housing association's customer service?
For the last decade, productivity and efficiency have been at the forefront of executives' minds because they have become core to successful business operations in this technological world we live in. The more efficient a workflow is, the more productive its users are, leading to valuable time savings and cost efficiency. This is the winning formula that every organisation wants.
In today's digitally focused age, most companies are using software to manage larger workloads and drive human efficiency, allowing their team members to focus on more or different tasks. Many telephone systems used to be answered by a switchboard administrator, but today, you are often greeted by an automated system that will talk you through a menu, leading you to the right department or person that you were intending to speak with. The job of the switchboard administrator has been replaced by an automated telephone system. Likewise, the world of customer service has been automated, allowing organisations to focus their human resources on more key tasks by alleviating them of the basic roles, such as greeting website visitors, which can be seamlessly done with an AI chatbot like Click4Assistance's Artie.
Every organisation and customer service department need a productivity update to remain in the efficiency loop. Customer service, sales and marketing now feature many productivity options that allow a significant portion of their work loads to be streamlined and automated, giving these team members the time to focus on delivering a better service and tending to more consequential tasks.
How live chat website software can boost your productivity
Live chat software, such as Click4Assistance, has been used by organisations for over a decade, connecting customers with brands on a one-on-one basis. This communication channel gives customers a closer relationship with your housing association, improving your brand equity while increasing efficiency in your customer service department.
Through adding online chat software to your customer service arsenal, your agents can speak with multiple customers through live chat on your website, instantly making them much more productive and efficient. This communication alternative will automatically reduce your call volume, since customers will have a choice of communication channel and since the queues on telephones are traditionally longer than online, many of your customers will opt with a live chat website over an indefinite phone queue. Less calls to answer, more customers spoken to, and a reduction in your average telephone queue time are all targets any hosing association will want to achieve in 2021.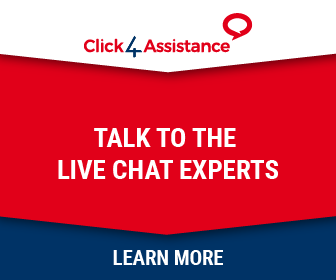 It's automation time!
Now that you have explored one side of productivity, it's time to discover automation, to streamline your customer service communication in ways that will only support your customer service team. With Click4Assistance's Artie, your agents can say goodbye to manually greeting website visitors, and your customers can say hello to anyone, no matter what day or time it is, instantly putting your company website online, all the time. Imagine being able to have someone available at all times to answer your customer's questions, help with website navigation and even support sales with cross-selling and up-selling, without increasing your staff and being cost effective. This is what Click4Assistance's AI chatbots, Artie and Coni, can do for your brand.
Pairing automation with live chat website software is the most powerful productivity solution for the modern customer service department, and Click4Assistance shows how it can be achieved with big results in a cost effective way.
The best live chat website software for your housing association
Click4Assistance has been supporting housing associations like yours for over 15 years. If you're ready to level up your customer service productivity, it's time to think about deploying Click4Assistance, the UK's premier GDPR compliant live chat software solution. Give us a call on 0845 123 5871 or send an email to theteam@click4assistance.co.uk and one of our experts will be with you right away. Not ready to reach out yet? Discover how it works, try a demo, or better yet, try Click4Assistance completely free for 21 days.