DATE
TAGS
AUTHOR
VIEWS
Live Chat Software Gives Online Shopping the Personal Factor
Things have changed with online shopping, since customers started using live chat software as a simple and more effective means of communication
Once upon a time it was only high end department stores that hired personal shoppers, With Marshell & Co (now under Macy's nameplate) located in Chicago being the first to offer the concept in 1852, making the visitor experience a lot more satisfying, leaving them feeling more valued and special, with knowledgeable recommendations being suggested. This experience doesn't just have be kept to physical shop stores, online visitors can also have the chance to feel as valued with the personal shopper experience through live chat software.
A visitor in a store can sit with a personal assistant and flick through a brochure, being able to discuss the products and what the assistant recommends. Using a live chat solution ensures a visitor can speak with a representative about the product they are looking at, with the Co-Browse feature the representative can literally be on the same page as the visitor and give their advice.
The representative can give their one on one personal recommendations on similar products, should the one that the visitor is enquiring about be out of stock or if other products complement the customer's choice, by using the auto-redirect feature in the live chat software. This will prompt a new tab/window to open in the visitor's browser directing them to the page the representative has suggested.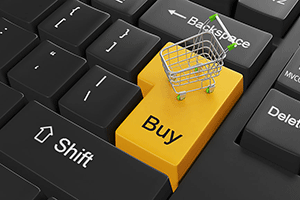 When in a store and a customer is ready to buy, the checkout is clearly signposted with a friendly (in most cases) sales assistant waiting. Last minute purchase deals are often doted around the till. Online is no different, once the customer has made it obvious they are ready to proceed to checkout, the representative in chat can auto-direct them to the basket page, and now the representative job is complete, they can close the live chat which will then change the chat window to the post chat window. The majority of businesses will opt for a survey to study how well the chat went, this can however be fully customised so why not add promotional content for any last minute purchases?
Click4Assistance has been working with Harvey's Furnishing for the past 2 years, adopting live chat to improve the online experience of their visitors, Harvey's are primarily using live chat software to assist with sales. The software allows them to redirect visitors to their products pages, should a customer not consider the matching chair in the collection for the sofa that the visitor is enquiring about.
Working with Online Retailers for over 10 years Click4Assistance has the knowledge to help your company make your visitors online shopping experience as satisfying as being in store.
Give our team a call on 0845 123 5871 to arrange a personal walkthrough of the software, or drop us an email at theteam@click4assistance.co.uk.