DATE
TAGS
AUTHOR
VIEWS
Building great social media customer service
There is no arguing that social media has taken over the communications world as the chief online chat software. This instant gratification media commanding immediacy has completely transformed the way we speak to each other, who we speak to, and when we speak to them. The platforms forecasted the rise of business on their social networks, and those who have some form of business support, have developed the option of using social media to provide customer service.
While each platform is different and captures a different market, there are two that really provide a fantastic opportunity to provide great customer service through social media. After all, that's where your customers are spending most of their time. If you advertise on social media, why not provide customer support where they are most comfortable and find more convenient?
What is social media customer service?
We all know what customer service is, and what it entails, therefore, social media customer service is simply using social media for customer service using the provided online chat software. There are many benefits for this, and while social media was not originally built for customer service, they have grown along those lines in the last ten years.
On Twitter, you will find brand pages and separate support pages, whereas on Facebook, brand pages tend to provide support via their messaging app, Facebook Messenger. Instagram has direct messaging like Twitter, but brands don't have dedicated support accounts there, and Linkedin does not have any instant messaging options for company pages. WhatsApp has now launched WhatsApp for business which is a fantastic option for every business, since you can offer support on a platform that your customers are already using all day.
Live where your customers live
Marketing departments follow customer eyeballs wherever they go, in order to leverage their marketing spend and capitalise on every possible platform, but most businesses do not look at social media as an avenue for customer service. The interesting thing is, customers are already using social media for customer support, by asking questions in comments or via instant messages, or reaching out to you in other ways. By ignoring these customers you are hurting your own company and stifling your revenue streams.
Answer their questions, and there will be many
Since your business is already using social media for marketing, look at adding support for customers to reach out when they have an issue. Social media is not a one-way channel, and businesses tend to think of it as such. By answering questions and responding to messages, customer's respect and trust levels will grow, with you ahead of your competitors. Assign a member of your customer service team to monitor your incoming social media instant messages.
Responsiveness is critical
Gone are the days when we can respond to a message within 24 hours and it was deemed acceptable. Customers are expecting messages to be responded within minutes, if not immediately. For customer service teams, this adds a great amount of pressure to be responsive, while balancing the quality of the customer service given. While autoresponders can tell a customer that your office is closed and someone will get back to them the next business day, this can come across as cold and dismissive, leading to a negative customer service experience. The best solution for this is an AI chatbot, that can respond to customers 24/7, and answer basic questions that your agents don't have to respond to, like opening hours, locations or navigating the website.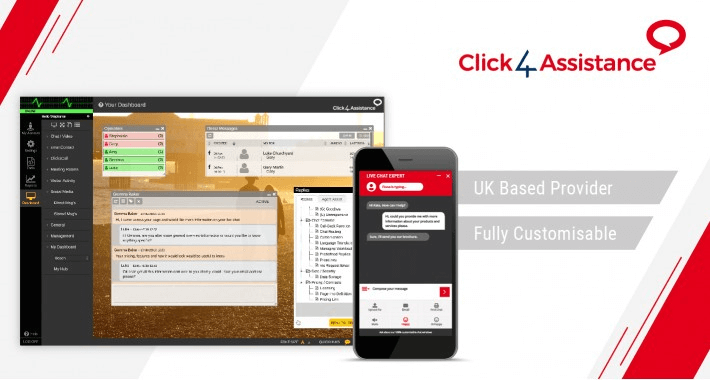 Always have a knowledge base
Self service is one of the best ways for customers to get what they need without bogging down a customer service team. However, a great benefit of having a knowledge base is to direct customers to a step by step guide to solve an issue they are facing. It saves the customer service agent the time they would have taken to articulate those steps but also massively reduces any chance of human error.
What is the best way to implement social media customer service?
Click4Assistance understands a business' customer service needs, being in the industry for more than 15 years. We predicted that customer communication was going to be impacted through instant messaging, so a seamless integration for social media messaging was developed. Working on a fully customisable desktop dashboard, your online chat software and social media messages can be in one place. Never miss a message, don't keep switching apps, and provide a five star customer service experience to your customers with this one simple change.
If you're interested in deploying Click4Assistance, the UK's premier GDPR compliant live chat software solution, to increase your business' productivity for 2020, give us a call on 08451235871 or send an email to theteam@click4assistance.co.uk and one of our experts will be with you right away. Not ready to reach out yet? Discover how it works, try a demo, or better yet, try Click4Assistance completely free for 21 days.