DATE
TAGS
AUTHOR
VIEWS
Contact Centres: Are you aware of all the amazing benefits of online chat software?
If you close your eyes and imagine a contact centre, Hollywood has painted us a picture of workstations in neat rows, buzzing with conversations in a chaos of constantly ringing phones, and supervisors and managers being hailed to the rescue. Real life differs to the contact centres of 20 year old fiction, with workstations being a lot more quiet and the phones aren't constantly ringing in the background thanks to automated telephone systems with waiting queues. Communication has changed a lot since the advent of the internet and the widespread adoption of instant messaging, giving birth to a new communication channel for contact centres to adopt: online chat software.
Since the 'good old days', live chat has become a vital part of customer service communication, by many contact centres do not know the true value of this magical productivity powerhouse packed into a supercharged cost efficient bundle. So today, we shall explain how the right online chat software can completely change the game for your contact centre.
Reduce call volume while increasing productivity
Naturally, we would all love less calls, less customers to speak with and still get paid for the job, but it does not work out that way. The next best thing is online chat software, because it makes your whole team more productive while making your entire customer service communication machine more efficient. When you add in a communication alternative with a shorter wait queue that's more convenient than waiting on hold indefinitely, customers naturally select that option. While chatting with customers with online chat software, your customer service agents are able to chat with multiple customers simultaneously, allowing them to increase the number of customers spoken to in the same time as a single phone call. This reduces the call waiting time for those in the telephone queue as there are less people, so from a customer experience perspective, it's a win-win.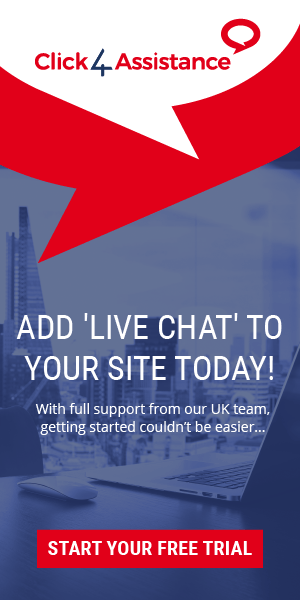 Cost effective and saves you money
We love saving money, and so do contact centres but how can online chat software save your business money while being cost effective? To speak with the same volume of customers over the phone in the same timeframe that a live chat allows would require a few more team members. This means online chat software, like Click4Assistance, makes your team much more effective without increasing its size, and that efficiency is scalable across the entire team. The cost savings from managing a leaner team with the cost effectiveness of the solution itself, makes it a hard option to say no to.
Automation on a whole other level
The true icing on the cake would be when we don't have to work at all; when machines take over and we can kick back and relax. Wouldn't it be great to have someone available 24/7 to answer your client's customers, even when your contact centre is shut? Wouldn't it be amazing to have every incoming website visitor greeted personally, and have basic questions answered magically? Wish no more, because that's what Click4Assistance's AI chatbots, Artie and Coni, are here for! They are able to greet incoming customers, answer basic questions, assist with website navigation and help support sales, without any human intervention. Now that's efficiency on a whole other level.
Click4Assistance: the UK's premier online chat software
Click4Assistance has been supporting contact centres just like yours for over 15 years. If you're interested in deploying Click4Assistance, the UK's premier GDPR compliant live chat software solution, to level up your contact centre in 2020, give us a call on 0845 123 5871 or send an email to theteam@click4assistance.co.uk and one of our experts will be with you right away. Not ready to reach out yet? Discover how it works, try a demo, or better yet, try Click4Assistance completely free for 21 days.