DATE
TAGS
AUTHOR
VIEWS
Conversational marketing for your contact centre
We live in a conversational world, one in which we can connect with millions, from every corner of the planet, in seconds. This is our conversational world, built on the back of technology and growing with every advancement. But with all of this change, comes different responsibilities, leaving contact centres at the mercy of constant change. With this, Click4Assistance's live chat integration can support you.
Better relationships between brands and customers is your contact centre's ideal milestone, since this only strengthens the relationship between yourself and your clients. Conversational marketing is proven to provide a much deeper relationship between companies and customers, leaving many contact centres like yours finding ways to incorporate it into their workflows. Click4Assistance makes this possible through its innovative development, keeping up with all the changes in the communication world and ensuring that every contact centre can keep updated while remaining cost effective.
Live chat integration is one of the most widespread and successful conversational marketing tools since its introduction back in the 1990's. Today, many businesses use chat integration on their websites to connect quickly with customers and provide an alternative to calling in, massively reducing the overall call volume and improving the waiting time for those who have to call. Chat integration massively improves the customer service experience and makes your communication much more productive.
Time is of the essence
Time is money, for contact centres like yours, so the more you can streamline and automate, the more your agents can do. By eliminating the basic but time consuming tasks, such as greeting website visitors or helping with navigation, you can maximise the number of customers with more complex issues that are spoken with. This allows your contact centre to do more, with less resources, and keep the operation more cost effective, while remaining conversational with customers and improving their overall customer experience. Click4Assistance's Artie and Coni are always available to chat with customers on live chat and direct messages, immediately engaging and greeting them, collecting key information for your agents, assisting with navigation and even sales.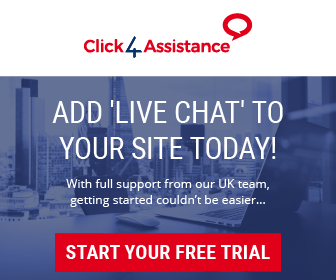 Supercharge your contact centre's productivity
How many hours are lost to searching through applications, looking for messages or notes, do you know? Speed is everything at a contact centre, since the faster an agent is able to speak with a customer and close their ticket, the faster they are able to move onto the next customer. Every 30 seconds saved in an action can easily add up to hours in a week, which is why Click4Assistance developed their fully customisable dashboard, allowing your customer service agents to find everything they need in one place, without having to flip through different windows and applications to find notes, messages and more. They can access their live chat integration, video chat, artificial intelligence chatbots, Click2Call, social media direct messages and even your own CRM integrated, all from the dashboard, which they can personalise to their preferencial workflow for maximum productivity.
The most secure live chat integration
For over 15 years, Click4Assistance has been the top choice live chat software for contact centres in the UK. With no transatlantic data transfers, your data is safe and protected by EU data protection regulations, and your live conversations are as safe as a payment page with 256-bit encryption for data in transit. Your contact centre can rest easy knowing that your data is safe and secure, on UK soil. Click4Assistance's security allows your contact centre agents to seamlessly work remotely, providing your contact centre the ability to stay online when the next disaster strikes, with virtually no downtime, since agents can access the Click4Assistance dashboard from any laptop or desktop computer with a Chrome browser. Click4Assistance is the only live chat integration that provides this level of security with a comprehensive suite of modules that can transform your contact centre into an efficient communication superpower.
If you're interested in deploying Click4Assistance, the UK's premier GDPR compliant live chat software solution, to level up your contact centre in 2020, give us a call on 0845 123 5871 or send an email to theteam@click4assistance.co.uk and one of our experts will be with you right away. Not ready to reach out yet? Discover how it works, try a demo, or better yet, try Click4Assistance completely free for 21 days.