DATE
TAGS
AUTHOR
VIEWS
Healthcare Industry: Streamline Resources, Improve Patient Services
Healthcare organisations are under pressure to provide efficient services to patients with limited resources. Digitally transforming some of these services have made it possible to save time, money and staff.
Many of these organisations will introduce an online service in one area of the business first. This allows them to ensure they can manage the project effectively and prove the concept, enabling them to execute a controlled roll-out.
Here's a rundown of some of the online channels healthcare organisations are utilising and how.
Live Chat / Web Chat Software
The popular one-to-one communication channel that connects a visitor directly to an advisor enables individuals to have their questions answered instantly in real-time.
Live chat / web chat software is a secure, private environment which has allowed organisations to book in appointments, hold consultations and provide advice etc.
Live chat enables trained agents to handle multiple chats simultaneously, allowing fewer members of staff to handle enquiries increasing their productivity. This is useful for digitalising tasks such as appointment making, advising if test results are back or any other general enquiries.
Consultants using the online channel may prefer to only handle one chat as at time depending on the nature of their conversation. If they make the decision that they want to have a physical follow up with the patient they can easily transfer the chat to their PA/receptionists to complete the booking.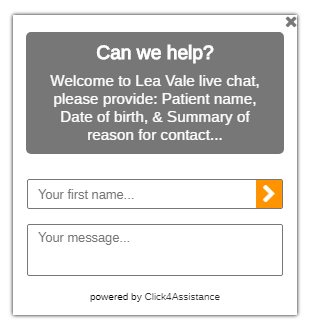 Video Chat
Another way to hold consultations is via video chat. The channel is a digital face-to-face connection with voice and video capabilities. It can make it easier for a doctor or consultant to make a decision as they can see the patient. This can also be beneficial for those housebound or who communicate via sign language to have an initial appointment.
AI Chatbot
Before a visitor enters a web chat software session, a bot can be configured to ask the individual pre-qualifying information. This can be used to identify who they are and what the nature of their enquiry is etc. Once the bot has collected this information they can transfer the chat to an advisor to carry on the conversation.
Alternatively, for general enquiries the bot can answer any frequently asked questions it has been taught. At any point when requested to or if it doesn't know the answer the chatbot can transfer the enquiry to an agent or provide alternative contact details if they are unable to chat.
Meeting Rooms
For services aimed at a group of people sharing a common aspect, healthcare organisations use meeting rooms to digitally connect everyone regardless of their location.
Advisors can provide information to multiple participants without advising on individual situations. This can include mental, sexual or physical health and wellbeing. It also allows the groups to meet others going through similar scenarios, which can make them feel supported and not so isolated.
The sessions can be moderated by the agents, allowing them to authorise each visitor message that is sent publicly into the room. This reduces inappropriate message being viewed by multiple participants, reducing the risk of causing offence, and enables the organisation to handle the situation quickly and efficiently by identifying who sent the message and removing them, unbeknownst to the others in the session.
Click4Assistance has been providing web chat software for over 15 years, helping healthcare organisations to streamline their operations and save resources whilst efficiently providing patient services online. For more information on how we can help you, contact our team on 01268 524628 or email theteam@click4assistance.co.uk.