DATE
TAGS
AUTHOR
VIEWS
How can artificial intelligence benefit charities?
Artificial intelligence has been taking over the technology airwaves for the last few years with increasing frequency. Slowly, through smartphone and home technology, artificial intelligence has found small ways to become a mainstay in our lives. We depend on this software to find us answers quickly, and make us more productive, such as when we schedule appointments and reminders through Siri or ask Alexa to assist us with ordering some more washing up liquid.
But how can this technology help charities? AI applications like Siri and Alexa are built with natural language processing, meaning that they understand the sentence or question much better than their programmed conversational interface counterparts. It allows a user to speak with the AI more naturally rather than give precise voice or text commands that we can easily get wrong.
Artificial intelligence is found in many aspects of our daily life, and naturally, it can make our work life much more productive, which is precisely what many charities aim to achieve, since it is more time and cost effective. So how can artificial intelligence, such as Click4Assistance's live chat website AI chatbot, Artie, and formbot, Coni, benefit charities?
Increase productivity
The immediate benefit for charities when they deploy Artie or Coni is a boost in productivity. Artie and Coni both save your customer service team massive amounts of time, by being the front line of communication on your charity website and social media, and filtering only the more complicated customer queries to a human agent. Your agents no longer have to answer simple questions such as locations or opening hours, or help with navigation since Artie and Coni do this, saving your human agents that time.
Engage users immediately
This may not seem like a big one, but it is. People are often reluctant to ask for help in general, and more so for those who really need assistance. Artie and Coni can very easily break the ice since they are friendly, but because they are bots, they are not perceived as judgemental, and website visitors are more likely to answer their questions than from your human customer service agent. Additionally, it will get quite expensive to have a team manually engaging website visitors all day, so let Artie and Coni manage that for you.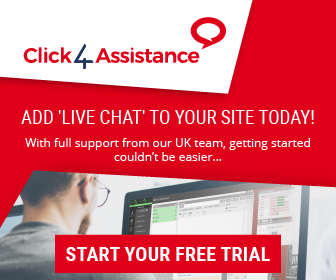 Gather data automatically
Your charity's customer service agents are busy and have a lot on their plate. Wouldn't it be perfect if they could have someone collecting preliminary information from website visitors, saving them that time? Coni can be an invaluable resource here, collecting information from website visitors and passing that onto your team so they could get straight to helping people.
Always online, always available
The last and most impactful benefit for your website is that your charity will always be online and available, so no matter what time a benefactor needs your assistance, someone will be there to answer basic questions and provide baseline advice until a human agent is online to provide further information. Help people when they need help, no matter what time it is.
The best live chat website software
For over 15 years, Click4Assistance has been supporting charities like yours with their customer service software solutions. The customisable dashboard allows your customer service agents to have everything they need in one place: live chat, video chat, Click2Call, Facebook Messenger and WhatsApp messages, and even your own CRM integrated. Build ready for remote working, Click4Assistance's dashboard can be accessed from any computer with a Chrome browser, and your live conversations are as secure as a payment page.
It is no wonder why so many charities and organisations use Click4Assistance to manage their customer service. If you're interested in deploying Click4Assistance, the UK's premier GDPR compliant live chat software solution, to increase your charity's impact for 2020, give us a call on 0845 123 5871 or send an email to theteam@click4assistance.co.uk and one of our experts will be with you right away. Not ready to reach out yet? Discover how it works, try a demo, or better yet, try Click4Assistance completely free for 21 days.