DATE
TAGS
AUTHOR
VIEWS
How your charity can reduce your call volume with the best live chat
All charities face similar issues within their customer facing departments: you have to communicate with a multitude of people from a variety of backgrounds across multiple platforms and speak with people over the phone, all at the same time. Charities have various types of incoming communication, some being people in need, some who may be possible volunteers or donors, and some who just want more information without indicating where they fit.
How does your charity manage the constantly ringing phone, flooded email inbox, and incoming social media direct messages? Are those on the phone waiting in an indefinite queue? Does your inbox contain a possible donor's email that you missed? Are you ignoring the person in need who reached out on Facebook Messenger? What about those who have difficulties communicating? Is your charity properly managing all the incoming communication effectively and are you using the right tools to help you reduce your call volume, saving your customer service team lots of time and your charity lots of money?
The best live chat reduces call volume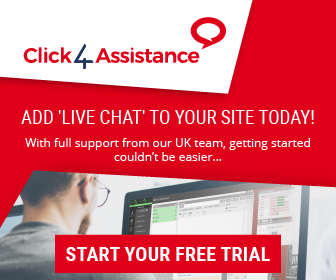 Online chat software isn't a brand new technology. It started back in the days of AOL and MSN Messenger and has evolved into what we know today as a communication powerhouse, adopted by millions of organisations all over the world. It entered the business world due to its low capital investment, ease of use, and productivity potential. Since customer service agents or volunteers can live chat with multiple people at a time, it makes those one on one five minute telephone calls massively unproductive. Imagine going from speaking to ten people in an hour to fifty… That is a huge jump for charities who have a higher call volume, and this is just the beginning.
Click4Assistance has an AI chatbot that can manage all the basic incoming chats, such as locations, opening hours and information collection, which adds another layer of productivity, since you can programme it to ensure your customer service team is only sent the more complex queries that require human intervention. With automation, your charity saves time and money in the long term, as you'd need less people to manage just the complex queries and the chatbot does all the heavy lifting!
Create a more inclusive experience
The major issue with telephone calling is the waiting time. Many people do not have the opportunity to sit on hold indefinitely, making a telephone queue undesirable and sometimes not possible for the caller. This immediately cuts off some of the people who need to contact your charity, either for assistance or donation. The best live chat, such as Click4Assistance, is very inclusive, allowing those who have communication difficulties to be able to reach out in a medium that they are more comfortable with. Sometimes it can be hard asking for help, and live chat software can make that much easier, allowing your charity to help those in need when they need it most.
The icing on the cake
Click4Assistance has been working with charities like yours for over 15 years, so we are acutely aware of what your charity needs in terms of customer service solutions. Our fully customisable dashboard allows your team to access everything they need from anywhere: live chat, video chat, social media direct messages, Click2Call, and even your CRM integrated, all in one place.
Say goodbye to searching through multiple apps and missing messages, and say hello to the best live chat that is as secure as a payment page. Since Privacy Shield has fallen, charities need to be aware of the risks with customer service software based outside of the EU. Click4Assistance is proudly 100% British, with the entire operation, development team and storage, all based on UK soil, so no more worry about transatlantic data transfers and the protection of your data overseas. Click4Assistance gives you that peace of mind.
If you're interested in deploying Click4Assistance, the UK's premier GDPR compliant live chat software solution, to increase your charity's impact for 2020, give us a call on 08451235871 or send an email to theteam@click4assistance.co.uk and one of our experts will be with you right away. Not ready to reach out yet? Discover how it works, try a demo, or better yet, try Click4Assistance completely free for 21 days.