DATE
TAGS
AUTHOR
VIEWS
Offer a Spooky Service And Add Chat to Website
Crunchy leaves on the ground, a cold, orange atmosphere and time for hot chocolates with marshmallows and cream. Sounds like its October again! Gone are the days of sweating buckets in the office, now it's time to wrap up warm and prepare for the Halloween sales!
Halloween is also known as All Hallows' Eve or All Saints' Eve and is celebrated on the 31st of October every year, which is the eve of the Western Christian feast of All Hallows' Day.
Halloween is a great time for kids, teens and even adults to get scarily creative! As the years have gone on, costumes have really seen an improvement, it's amazing what people can do with a little fake blood and latex! But nowadays, people going off to parties aren't always exactly 'scary' looking. The tradition of expressing the horror is starting to vanish. So don't scare off any visitors this Halloween, treat them with a few good deals and Live Chat Software.
The annual Halloween consumer spending all together equates to £5,353,040,000, which includes costumes, decorations, renting out venues for parties etc. The annual amount of money spent on costumes per person is £21.00 and £16.00 for decorations. On average, £840,348,000 is spent on children's costumes whereas £1050, 745,000 is spent on adults'!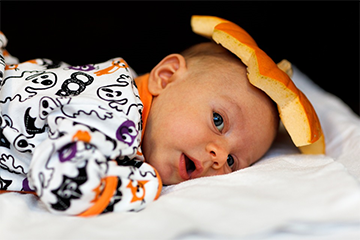 How Can Live Chat Assist?
Online retailers know what it's like when it gets to the holiday season. Out come the 'SALE' signs and banners from last year and the influx of customers can get quite overwhelming! Due to the crowds in all the stores, some customers might want to play it safe and stay at home. For this reason, online retailers will want to think of those who still want in on the deals! Add live chat to website to help.
Having a Live Chat tool on the website means that companies can engage with clients through the most simple communication channel, enabling them to answer questions; from asking where a certain page is on the website, to asking about shipping fees. All these types of enquiries can be answered in a one to one chat. Representatives can handle multiple chats, increasing productivity and phone line availability.
Operators can 'treat' their visitors this Halloween by sending a proactive invitation with Live Chat, which is a simple message that asks if they're in need of any help. Proactives can be assigned to pop up based on the length of the customer's visit to the website.
Offer a personalised conversation by adding a prechat form that initially presents before a chat window, allowing the client to type their name and enter their question. Why not customise the chat button and window specifically for this season?
Discovering the Pain Points
People having trouble cleaning the eggs from their house this season? Pain points like that can't be helped by online retailers unfortunately, but they can help with others, like navigating around the website if the visitor is struggling – the automatic navigation system handles this. Should visitors have a question regarding support, operators can direct them to the correct department using the routing system.
For great sales, great customer service must come first and Live Chat is more than just a sales tool! Operators can use predefined replies to save the time it takes to type out answers over and over, answering visitors' questions much quicker.
So how are you planning to start the spooky season in store? Be sure not to forget about your online store and add live chat to website. For more information, contact us on 0845 123 5871 or start a chat with us today.