Website Chat Software - Things you should know
So you're considering adding web chat software to your site?
Well you're not alone, more and more businesses these days are looking at website live chat providers to reap the benefits this type of online communication offers. Web chat software reviews show that average order values increase and customers are nearly twice as likely to purchase when you offer a live chat service.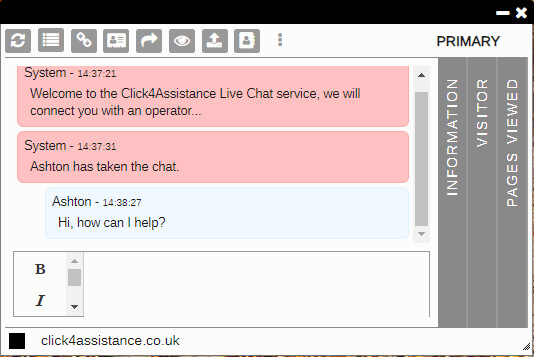 Although it's as simple as downloading software (or accessing the solution via browser) and adding html script to the website, there can be many aspects to consider depending on the type and depth of implementation you're looking for.
After researching a number of providers, this article has been designed to outline some of the important areas you will need to consider, from choosing the right web chat provider to planning your requirements and adding the chat tool to your website.
Your first steps should be to devise a plan, get everyone on board (agents and managers), ensuring one person takes ownership of the implementation who can delegate to the relevant staff and department heads.
No doubt you have seen and probably used web chat on other sites, now is the time to look at it in more detail. Why not take a look at your competition, are they using a website chat tool, how have they implemented it, what do you like, what would you improve? All this will start to crystallise your vision on how you expect web chat to work within your organisation.
Review the web chat software providers
Although there is open source software available, usually most web chat applications are based on a SaaS (software-as-a-service) model, meaning the provider hosts the complete solution, taking away the burden of complex server set-up, and maintenance including backing up and disaster recovery.
Due to the ever changing data protection legalisation, and as the provider is storing your chat data you should use due diligence and ensure the data is stored in the country you operate within and it does not leave the country even for off-site backups or when in a disaster recovery situation.

Don't forget to check the chat provider's customer base, do they deal with small companies, large organsations or a mixture of the two? Do they have genuine reviews and testimonials, are they able to provide case-studies and examples how companies in your industry have implemented web chat?
What levels of support do they offer, do you have a dedicated account manager and support team available on the phone during your normal working hours, and are they based in the same country as you? Some web chat providers just have email and ticket based support, which could leave you waiting for hours for a reply. Pick up the phone and talk to them, get a feel for who they are and how they operate.
To help get you started, we have comprised a list of the best web chat providers.
Top 10 Things you should considering implementing website chat software
1. Where and how do you intend to deploy

Do you have just 1 one website you wish to add web site chat software, or maybe you have multiple sites and platforms and agents from offices across the world.
Even if you're a large organisation with multiple sites and platforms and only initially intend to deploy a web chat solution in one area, is there the potential to expand into other areas in the future, if so, this expansion should be taken into account at the initial stages to make life easier when the time comes.
Even if you have just one website, you maybe have a login area for customers, did you want to offer both public visitors and logged-in customer different experiences, maybe one group routes to your sales department, the other to account management or support. A good web chat application will provide the flexibly to implement web chat in a variety of difference ways.
2. Live Chat Agents

Based on how you deploy, think about how many agents you wish to handle incoming chats (visitors to your website are more likely to use chat than phone or email, so you should have an idea of how many agents are required). Will the agents be dedicated to live chat, or will they handle multiple inbound communications from different sources.
Should the agents be put into different departments, for example Sales and Support? Larger implementations may wish to group the agents by country so they can handle chats in their native language.
Usually there are 3 types of users, agents who deal with the incoming chats, managers who monitor the agent's performance and provide advice and training based on various chat reports and metrics offered by the web chat software, and administrators who customise and configure the web chat application based on the business requirements. Ensure each type of user have the relevant permissions and access rights to only the areas they require.
When a chats starts, which department should it route to, should this be set by you, or would you like the visitor so manually selected which department they wish to converse with?
Outsourcing of your chat agents could also be an option if you don't wish to deal with incoming chats internally, there are a number of outsourced chat providers that will offer a live chat answering service in a dedicated or bureau model.
If you intend to handle incoming chats internally, we recommend reading this great article handling web chats.
3. Adding Web Chat HTML to your Website

In order to add web chat to your website usually a small piece of html script is added to your web-pages, this will need to be managed by you as the web chat provider will not have the relevant access to make changes to your site.
Depending on your company's structure, you may deal with modifications to your website internally, or you may outsource your website development to another company. Although adding live chat to your website is a simple task, always check with the developer regarding time-scales, they are a technical bunch so it's worth asking their opinion on how they see web chat working across your organisation.
Remember, if you're looking at a larger implementation across multiple websites, or multiple areas within your site, get advice from the developers regarding what's required from a technical point of view.
4. Your customer's experience

The visitor experience is of upmost importance, they are your potential and existing customers, their experience on your website and within web chat reflects on your business. A bad experience damages your reputation, a great experience and they will refer you to others and have a positive perception of your business.
With the above in mind, make sure your chat windows can be fully configured based on your requirements, it needs to fit seamlessly into your website, so colours, fonts, branding and any imagery should be in-keeping with your existing online presence and brand.
One decision you will need to make is whether you wish the visitor to click on the chat button and the chat starts straight away, or you prefer to collect their details before the chat starts, even if it's just their first name to make the chat experience more personal. Web chat applications should allow you to easily configure what information is collected, for example you may ask the visitor for their account number, email address, or name of their company. Just remember, asking for too much information can prevent visitors starting a chat, its becoming human nature to not give out too much personal information online these days.
A good web chat solution will also allow you to configure survey forms which are presented once the chat has ended. These surveys provide a great insight into the visitor experience, and should be regularly monitored. Asking questions such as "How can we improve", "Was your question answered", provide great KPIs which can be used to improve your online operations even more.
A big question you need to ask yourself is what happens when no agents are online. They could be unavailable for many reasons, or it's just outside your normal operating hours. There are usually 2 options, either hide the chat button on your website completely, or show a different chat button such as "Leave a message". When the visitor clicks on this offline button, they are usually presented with an offline form. Should this form just tell the visitor your operational hours and ask them to come back another time, or should it collect their details and nature of enquiry, if so, which email address in your organisation should this be sent too? Don't forget to inform the member of staff monitoring this mailbox how they should respond to these sort of web chat enquiries.
5. Be Proactive with Chat Invitations

Most web chat solutions these days allow you to engage with visitor as they browse your website, rather than waiting on them to click the chat button. Figures have shown by implementing proactive invitations correctly, your web chat uptake can increase over 300%!
There are 3 important aspects when considering proactive invitations:
The Design – From a design perspective, what do you feel should appear automatically in-front of the visitor? Should the chat window just appear automatically in the bottom right corner, or should the whole web page grey-out and a striking invitation appear? Once you have decide what the invitation should look like, focus on your message and the best way of engaging with the visitor. Something as simple as "Hi, can I offer some assistance while you browse our site?" can work well, or maybe you wish to promote your latest offers, for example "Hi, we are currently offering a 10% discount on all orders, would you like to find out more?"
When and Where – Once you have the design and message, you need to decide when and where you wish it to appear. Do you invite visitors to chat regardless which web page they are viewing or would you prefer to only invite the visitor based on specific page(s) they are viewing? Regardless of either option, how long should the visitor be on the site or page before the invitation appears? The best timing usually comes at the moment the visitor has read what they need and potentially have questions.
Analyse & Improve – It's important to monitor the success of the proactive invitations. A good web chat solution will tell you how many times the invitation is sent, accepted and declined. Using this information will enable you to make adjustment to the design, message, where and when the invitation appears. Why not carry out some A-B testing and see which works best?
6. Web Chat Integration
Web chat solutions have evolved since the early days. With online communication being more and more common, systems are now integrating into back-office and other messaging based applications giving business an Omni-channel solution.
Using API's web chat software can hook into many back-office systems which are usually cloud based. Using this type of web chat integration allows automation across many system such as CRM (Microsoft Dynamics and Salesforce) and enables complete data visibility across multiple platforms.
For example, when a chat is started, the contact record in the CRM system can be automatically looked-up, and the agent presented with a button to show the chatters full contact details. Once the chat is stored, it will be automatically inserted against the appropriate CRM contact record.
Having one solution to handle incoming chats from your website together with social media platforms such as Facebook Messenger, WhatsApp and Twitter obviously offers huge advantages to organisations. Teams of agents can now use one Omni-channel solution to handle all enquiries rather than separate solutions for each.
Although CRM integration and multi-channel communication may not be on your radar when implementing web chat for the first time, it's certainly worth checking the types of integration the web chat provider offers for future expansion into these areas.
7. Training

Most web chat software is very intuitive to use at a basic level, all include resources such as help pages, tutorials and videos which can assist with understanding how the software works.
However, if your requirements exceed the basic level, for example you wish to have multiple experiences, routing chats to different departments handled by many agents, with managers to supervise and analyse the reporting metrics, you should looking for a provider who can offer consultation together with onsite and remote training.
A good chat provider would have managed many complex and advanced implementations across a range of industries, their experience can ensure all aspects are considered while providing useful tips and tricks how to handle different scenarios.
Usually solution providers will offer training courses for agents, showing how to effectively and efficiently hand incoming chat enquiries. Management courses are also available, covering aspects such as reporting and management information, understanding the key metrics and how to improve various aspects such as proactive invitation acceptance and chat uptake.
8. Useful chat tool features

The following features might be a "nice to have", you may have not considered them at this initial stage, however they are worth mentioning as they can improve both the visitors and agents experience greatly.
Even if these features are not implemented immediately, it better to have the options available at some future date when your business requires them, rather than going through the process of changing to another web chat provider.
ChatBots – Becoming more popular each day, providing your visitors with a Chatbot that can answer commonly asked questions without agent intervention can be a useful addition to the solution. ChatBots can even be used for lead generation techniques, collecting details from the visitor including their name and contact information. Obviously a Chatbot will not be able to answer all questions posed, therefore, it's essential the Chatbot can escalate the chat to a real agent in these situations.
Pushing pages – During chat conversations, sometimes it easier to automatically navigate the visitor to a page containing the information rather than the agent regurgitating information you already have which is publically available.
Transferring Files – Depending on the types of web chats that occur, you may wish your agents to transfer files to the visitor during the chat and vice-versa. This potentially allows file such as PDFs, spread-sheets, word documents to be sent in real-time; useful for quotes, policies and technical information to be shared.
Video Chat – If desired, adding 2 way voice and video to the chat gives a much more personal feel, useful for demonstrations and meetings. Remember to check WebRTC technology is used, this allows voice and video streaming on all the latest devices including phone and tablets without the need to download and install any additional software.
9. Configuration

Once you have chosen a web chat provider and planned your implementation, it's time to configure your web chat account based on your business requirements. Although web chat software varies across providers, below are some of the common configuration aspects you will need to address before going live.
Setting up users – Each user whether an agent, manager or administrator will need their own separate login. A user profile will need to be created, allowing you to specify their login credentials, which department they reside within, and the relevant permissions and access rights they have within the software.
Predefined replies – You probably have a good idea of the common questions your visitors will ask. Spend some time setting up predefined replies so you agents can respond to these common questions with a click of a button, saving time and improving efficiency. Don't forget to review the chats regularly and add more predefined replies at time goes on.
End categories – To understand the reason chats are occurring and whether they were dealt with accordingly, configure categories so your chat reporting provides you with the management information to make informed decisions.
10. Web Chat Reporting

If you intend to take your web chat implantation seriously, ensure the solution provides you with all the information to help you make informed decisions and monitor performance. Ideally the software should allow reports to be scheduled and delivered to your inbox automatically in formats such as PDF or Excel.
All providers present information in different ways, however below are examples of the reports you should expect to see:
Chat Summary – High level metrics such as, how many times the online/offline button was seen, how many chats took place, the reason and outcomes of the chats, chat duration, queue lengths etc
Chat Details – All information relating to each chat that took place including the full transcript. These types of reports allow you to ensure agents are handing chats correctly and providing a resolution in accordance with your company's guidelines and best practices.
Surveys – Provides genuine honest feedback from the visitor, enabling you to understand satisfaction levels and address any issues that may affect the perception of your company and its web chat.
Availability – At both an overview and granular level, ensures your web chat system is available during operational hours. Granular information should give you the availability of each department and each operator.
Proactive invitations – If you're automatically inviting visitor to chat with your agents using proactive invitations, it's vital you measure the success of your strategy. Metrics should include the number of invitations sent, accepted and declined.
To conclude
As mentioned at the start of this article, if you're looking for a simple web chat implementation you can usually get up and running straight away with minimal effort.
Are more as more businesses are implementing web chat these days, requirements can get more complex especially for larger organisations. However, if time is taken to specify the exact requirements for the business and understand the impact in terms of resources, with correct planning and management the process will be pain free.
Don't forget whichever web chat provider you choose, make sure you contact them and are confident they offer all the functionality you require. Understand where they are located, and more importantly where you data will be stored.
We hope this article has provided some useful insights, and now really is the time to implement web chat software on your website today.