DATE
TAGS
AUTHOR
VIEWS
Streamlining student communication for your university
How are you communicating with your students? Are you communicating with them on their level, using the same technology and methods they are familiar with, or are you still using outdated communication techniques, expecting a modern response? Communication and technology has changed dramatically in the last decade, with an emphasis on instant replies, always available models, and mobile technology. How is your university reaching out and streamlining your communication with your students? Have you digitally transformed to accommodate these changes?
Meet your students on their level
Your students grew up in the age of text-based communication, with the start of MSN messenger, all the way to WhatsApp. This is a generation of instant messaging, at the tips of our fingers, and progressing into AI supported voice communication with the advent of artificial intelligence such as Siri and Alexa. Your university has to level up to keep your communication flowing with this technology-driven generation. Here are some helpful ways to get your university up to speed with the latest communication technology.
Less calls, more action
No one wants to wait in a telephone queue for an hour to speak with an administrator for ten minutes. In fact, many will view this as unproductive and inefficient, but this still happens at many universities and organisations that manage a substantial communication flow that relies heavily on email and phone calls. The simplest remedy for this is through a live chat box for website. What a live chat does is give your students an alternative means of communication.
By separating the bulk of your communication between live chat software and telephone, your call volume will reduce, since many will be able to chat quickly with an advisor, rather than wait in the queue for ages. This will also improve your telephone waiting time as well, since less people will be waiting on the phone to speak with an advisor. Your advisors' productivity will shoot through the roof with a live chat box for website, since they can chat with multiple students at a time, rather than only one-on-one over the phone.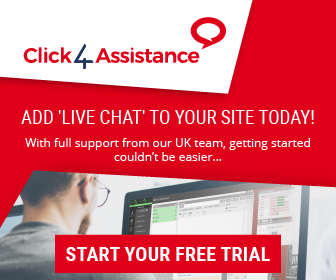 Always online, always available
We live in a 24 hour world now, but how have universities added support for this? Many of your students will not be able to communicate with your advisors during office hours, but your university can't have someone always online outside of office hours as it can be quite costly for a full team. This is where artificial intelligence, like Click4Assistance's Artie and Coni, can support your university while being cost effective. A chatbot like Artie is always online and available to help someone, no matter what time or day it is, while being able to chat with an unlimited number of website visitors simultaneously. He can instantly engage and greet students, answer basic questions, help with navigation and collect information for your advisors, all without human intervention. This simple upgrade can put your university's communication on 24/7 mode without the cost implications of hiring a full team to manage it.
Click4Assistance, the best chat box for website
A simple change such as live chat box for website can dramatically improve your advisors' productivity and your customer service experience. Click4Assistance's dashboard has everything in one place, all accessible from any laptop or desktop computer with a Chrome browser, making it a seamless remote access experience. With over 15 years of experience supporting universities like yours, Click4Assistance is in the right position to help your university meet its communication standards with your students.
If you're interested in deploying Click4Assistance, the UK's premier GDPR compliant live chat software solution, to increase your universities' productivity for 2021, give us a call on 0845 123 5871 or send an email to theteam@click4assistance.co.uk and one of our experts will be with you right away. Not ready to reach out yet? Discover how it works, try a demo, or better yet, try Click4Assistance completely free for 21 days.