DATE
TAGS
AUTHOR
VIEWS
30 Days into 2020: Are you persevering with those 'resolutions'?
Thirty days ago, timelines across every social network were plagued with a flood of 'new year, new me' goals and resolutions. While some were the predictable humdrum personal goals, like diet changes, losing weight, more exercise, and getting more organised, there was an enormous volume of business resolutions, the top ones being productivity, customer service and marketing. Coincidentally, we're specialists in these key areas, so we are here to help you on your journey to success, by providing you with some added power to persevere with your business resolutions.
Resolutions are always difficult to stick to since we're creatures of habit and inconsistency. In January, we'll stick with a resolution for the first two weeks before it fizzles out. How's that new diet going? Gone? Yes, that's the case with millions of people around the world who made a resolution and found the change harder than they anticipated. On a personal level, we justify all the hard work we do so we should go a little easier on ourselves at home. But what about business? How can we make those resolutions stick so that your business is better, stronger, and efficient for 2020 and beyond?
Make new habits
The easiest way to start sticking to the resolutions you've set for your business is getting into a routine with the new things you want to achieve. If you wanted to increase your social media engagement for marketing, it means you have to create a schedule and work at it a little every day until it becomes a natural part of your workflow. If you want to improve your customer service, you need to make responding to customers quickly a higher priority or have someone dedicated to this task. Delegating a task when you don't have the time to do it is a smart decision, as it keeps the business running smoothly, while you stay on top of your tasks.
Set reminders about your resolutions so that you don't forget them, as it is very easy to forget something while you're snowed under with work, and then remember at home when you're away from your desk while you decompress your day. Whatever the resolution, you have to find a method that works with you to make the new tasks a natural part of your workflow.
Provide 5-star customer service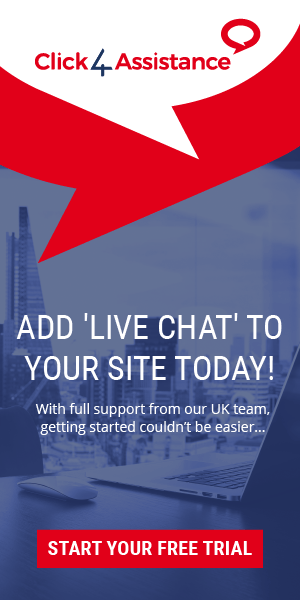 One of the top business resolutions for 2020 has been to improve customer service to a five-star level. Now that's a resolution we can really help with, since 5-star customer service is what we do. The easiest way to do this is through live chat for your website. Click4Assistance is a cost-effective, easy-to-install solution that provides your customers with a familiar method of communication with your business. Live chat is so ubiquitous that a growing number of customers won't buy before chatting, with every 1 in 4 customers using live chat lead to a purchase. That is not a revenue stream that you want to ignore.
Having live chat will also encourage your customers to reach out to you in a way that is more convenient to them, and more productive for you. A single customer service agent can speak with multiple customers via live chat simultaneously, making it at least 400% more productive than telephone calls. Since your customer service agents are more productive, they will provide a better quality of service, increasing your customer service standard instantly.
Boost marketing efforts
Social media, email marketing, content marketing, paid advertising, PPC, SEO… The list of marketing options today is endless. With the consumer market being as advertising resistant as it is, wouldn't it be nice to have a form of advertising that can also guarantee acknowledgement? Click4Assistance has a built-in advertising platform that you can control entirely, unlike any other form of advertising, which is partly in the provider's hands. Promotions are a simple way to ensure that your advertising is seen by your website visitors, and you can also direct them to sales, promotions, and other types of conversions you have on your website. There's no other form of advertising that gives you this much control.
Increase productivity
We have spoken in the past about using live chat for your website to increase your productivity but what if there was a way to double your efficiency, even during out of office hours? Why not stack artificial intelligence on top of your live chat methods? Since you are already using live chat, adding Click4Assistance's AI chatbot, Artie, will bolster your productivity through immediately engaging website visitors, answering basic questions, helping with website navigation and more. Artie can speak with an unlimited number of users simultaneously, and because he doesn't sleep, he can be online 24/7, putting your business in the category of 'always-online.'
It's hard to take your customer service to the highest standard and maintain that quality, but Click4Assistance makes it easier for you, with live chat, artificial intelligence, social media integration and a sleek customisable desktop dashboard, so you'll never miss another message again.
If you're interested in deploying Click4Assistance, the UK's premier GDPR compliant live chat software solution, to increase your business' productivity for 2020, give us a call on 08451235871 or send an email to theteam@click4assistance.co.uk and one of our experts will be with you right away. Not ready to reach out yet? Discover how it works, try a demo, or better yet, try Click4Assistance completely free for 21 days.