DATE
TAGS
AUTHOR
VIEWS
Stay in touch this Christmas
Winter is here, and the pandemic still hasn't gone, making this winter season more challenging than many others in the past. Charities, now more than ever, need to stay in touch with their patrons and beneficiaries, no matter the time, the weather, or the pandemic tier status. Click4Assistance's software solution can ensure your charity can keep in touch with those who need you throughout the winter season and beyond.
Stay in touch with live chat software
It's hard to ask for help sometimes, and it is just as hard to also connect with a local charity easily to help. When resources are tight and the weather is bitterly cold, that is the time when charities are needed more than ever. No long telephone queues, just a quick message on the website and you're instantly connected with someone who can help. That's what your website visitors need. Click4Assistance's live chat interface is easy to use, familiar and provides a level of privacy and anonymity which allows people to feel comfortable asking for assistance. Equally, the ease of use allows those who want to donate or support an easy communication method, increasing the chance of their donation.
Stay in touch with Click2Call
When a text conversation doesn't do the trick, your website visitors can connect instantly to your agents with the click of a button. And it's free for them, which is massively beneficial for those in lower income situations.
Stay in touch with Video chat
Sometimes, text and audio is just not enough. This is where Click4Assistance's video chat can support your customer service team and your website visitors. With the click of a button, your team can instantly connect with your website visitor and have a virtual appointment without any complication or travelling. This is fantastic for those who are in difficult financial situations or have trouble with mobility, and find physical meetings challenging. Click4Assistance removes that obstacle and allows everyone to stay in touch.
Stay in touch no matter what time it is
With a Click4Assistance deployment paired with artificial intelligence, your customer service team will instantly become always online, even when your team is asleep. Artie and Coni, Click4Assistance's artificial intelligence chatbot and formbot respectively, are always available to help your website visitors, no matter what time it is. By using Click4Assistance AI, your website immediately becomes always available help those in need and those who want to help.
Stay in touch no matter where you're working from
This winter is different from all others, as it's the first winter during the nearly year-long pandemic. Your customer service team members and volunteers may opt to working from home to reduce the spread and keep safe, and your customer service cannot afford to go offline. Click4Assistance's dashboard is accessible from any laptop or desktop computer with a Chrome browser, allowing your team to stay online and indoors. With the full suite at their fingertips, your live conversations are always safe with the 256-bit in-transit data encryption, whether they are at the office or working from home.
Stay in touch with the best live chat provider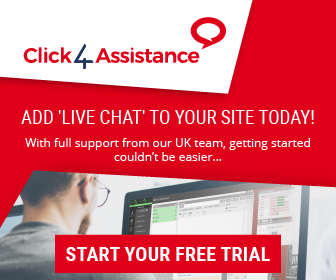 Click4Assistance has supported charities and UK organisations for over 15 years. Our pedigree permits us to lead the industry with cutting edge communication solutions and state of the art security, far surpassing standard security expectations and skyrocketing customer service agent efficiency industry-wide. Click4Assistance is determined to help your charity keep in touch with your patrons and beneficiaries during this pandemic-infused winter season, so that those who need your charity's assistance can easily contact your team, day or night, and know that someone is always there to help them.
If you're interested in deploying Click4Assistance, the UK's premier GDPR compliant live chat software solution, to increase your charity's impact for 2020, give us a call on 08451235871 or send an email to theteam@click4assistance.co.uk and one of our experts will be with you right away. Not ready to reach out yet? Discover how it works, try a demo, or better yet, try Click4Assistance completely free for 21 days.