DATE
TAGS
AUTHOR
VIEWS
Express Your Love This Valentine's for Your Customers via Social Media
14th February. Valentine's Day. But where did this notion for a day dedicated to love come from?
The St. Valentine's Day we celebrate today contains remnants of both Christian and Roman tradition. However, the actual origins are a little hazy with multiple accounts of the event.
There were at least three saints recognised by the Catholic Church named Valentine or Valentinus who were all martyred. One Valentine legend is about a priest who served in the Third Century in Rome. Emperor Claudius II outlawed marriage for young men as he felt single men made better soldiers. Valentine didn't agree and continued to perform secret marriages. When he was discovered by the Emperor, he was ordered to be executed.
Another legend is the one I was taught in school. Valentine had been imprisoned and was sent to be executed for attempting to help Christians escape the torturous conditions of the Roman prisons. During his confinement he fell in love with a young girl thought to be the jailor's daughter, who visited him during his imprisonment. It is alleged before his execution he sent the first 'Valentine' message and signed it "from your Valentine".
The Modern Notion of Love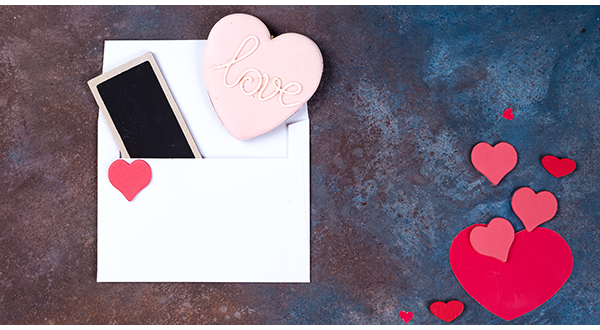 From that first message of sentiment, Valentine's Day has turned more into a competition of how couples can express their love as big and publically as possible. From sending flowers to your significant other's workplace, to sharing affectionate posts across social media complete with cutesy photos, and planning elaborate proposals.
Millions of messages are expected to be shared this Valentine's Day, with one of the most important messages that businesses can share with their customers is how easy it is to contact them. Having multiple channels available to consumers enables them to get in touch with the company via their preferred method.
With many channels of communication available to consumers, it can mean that customer service representatives have many platforms open at the same time as well as manning the telephone. 'Experiences' by Click4Assistance looks to streamline this and make it easy for advisors to handle enquiries in one place.
We have already integrated Messenger into the Click4Assistance chat for websites solution, allowing your advisors to answer enquiries from both live chat via your website and messages via Facebook. This means that customer service advisors are able to easily organise and prioritise their workload as they can see exactly what is coming in and from where. To find out more about our Messenger integration click here.
WhatsApp Integrating with Other Messaging Apps
Over the last couples of years the question our development team have been facing with WhatsApp is will they/ won't they allow integration with other messaging apps? Well the answer is… yes they will. Therefore our team will continue to monitor updates regarding the integration progress and possibly one day soon, the messaging app will be joining Messenger within the Click4Assistance solution, allowing for more enquiries to be handled within one platform.
Whether you are receiving messages of love this Valentine's Day or enquiries from your customers, streamline your operations and consolidate them all in one complete solution with Click4Assistance, and ultimately improve your advisors' productivity.
Click4Assistance has been providing online communication channels for over 10 years, for more information regarding our live chat for websites solution or our third party integrations contact our team on 01268 524628 or email theteam@click4assistance.co.uk.